1.
Ronnie Coleman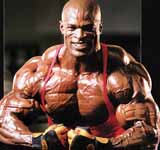 Ronnie is the winner of 8 victories in Mr. Olympia (1998 - 2005) and 26 total victories as a professional bodybuilder of the International Bodybuilding Federation (IFBB). Coleman graduated from Grambling State University in 1989 in accounting, obtaining the Cum laude qualification. Between 1998 and 2005 he was champion of all editions of the Mr. Olympia event. In the 2006 Mr. Olympia, seeking to break the record for eight consecutive titles he shares with Lee Haney, he came in second place, surpassed by Jay Cutler in the most controversial Mr. Olympia edition in history. In 2007 he competes for the last time in a Mr. Olympia, obtaining a fourth place, although he would continue to participate in other bodybuilding events. Since his retirement, today, Coleman is dedicated to giving exhibitions and seminars all over the world. In 2010 he began marketing his own brand of supplements, "Ronnie Coleman Signature Series".
2.
Arnold Schwarzenegger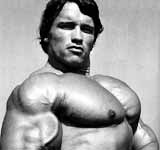 Schwarzenegger is considered among the most important characters in bodybuilding history, and his legacy is commemorated in the annual Arnold Classic bodybuilding competition. Schwarzenegger remains one of the visible faces of bodybuilding long after its withdrawal. Among his titles like athlete highlight the European junior championship in 1965 in August and Europe all in 1966. Four times Universe Championships, 15 once IFBB Mr. Universe 15 and seven time Mr. Olympia, a record that remained until in 1991 Lee Haney won the eighth consecutive. Schwarzenegger's goal was to become the greatest bodybuilder in the world, that is, to win Mr. Olympia. In his first attempt in 1969, he lost to three time champion Sergio Oliva. However, Schwarzenegger returned in 1970 and won the competition becoming the youngest to do so, a record he still holds.
3.
Lee Haney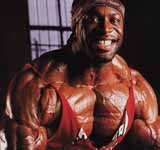 Lee Haney is considered one of the best American and world bodybuilders in history for earning more times the title of Mr. Olympia, (from 1984 to 1991), in total on eight consecutive occasions, matched only 6 years later by Ronnie Coleman 1998–2005. In October 2005, Ronnie Coleman matched Haney's eight consecutive Mr. Olympia record but in 2006 he couldn't beat it by winning Jay Cutler this time. He debuted professionally in the Grand Prix of England in 1983, that same year he won a test of the Grand Prix and the Night of Champions as well as being third in Mr. Olympia. The year 1984 won for the first time Mr. Olympia and all the following eight years until 1991, at which time he retires once he surpassed the Arnold Schwarzenegger record of seven titles.
4.
Phil Heath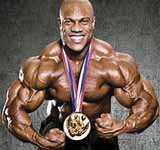 5.
Sergio Oliva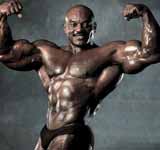 Oliva was born in Guanabacoa, a district of the Cuban capital Havana. There he successfully operated weightlifting and was sent by the Cuban Weightlifting Federation in 1962 to the Central American and Caribbean Games in Kingston/Jamaica. During this trip. At first he lived in Miami, later he moved to Chicago. At the time he modestly lived from repairing televisions, but continued to train with weights. In 1963, he joined the "Duncan" YYCA Sports Club in Chicago and found Bob Gajda to be an outstanding weightlifting trainer. But soon he devoted himself more to bodybuilding, and concentrated from 1965 entirely on this sport. He started first for the AAU (Amateur Athletic Union) and then moved to the IFBB (International Federation of Bodybuilding & Fitness). From the mid-1960s, he won the Mr. Olympia three times in a row. First with Arnold Schwarzenegger, with whom he delivered some duels, his success began to fade. In 1969 he again won the Mr. Olympia.
6.
Jay Cutler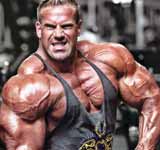 7.
Frank Zane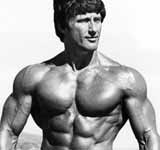 8.
Dorian Yates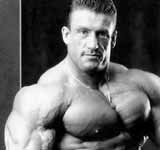 9.
Kevin Levrone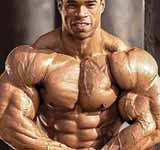 Kevin Mark Levrone is an American professional bodybuilder, musician, actor and blogger. He owns the World Gym Fitness Center in Maryland. His nickname within the bodybuilding scene is "Maryland Muscle Machine". Kevin Levrone won most competitions as a professional bodybuilder of the IFBB Association. However, he could never win the title of Mr. Olympia in his professional career so far. He began his professional career at the IFBB in 1991, and was during the 1990s at the forefront of international professional competitions. Nicknamed "Maryland Muscle Machine", he was considered one of the most serious rivals of Dorian Yates (with Kenneth "Flex" Wheeler, Shawn Ray, Chris Cormier and Nasser El Sonbaty). He has been twice winner of the Arnold Classic (1994 and 1996) and finished to Mr. Olympia four times (1992 and 1995 behind Dorian Yates, 2000 and 2002 behindRonnie Coleman).
10.
Lou Ferrigno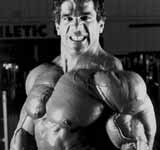 11.
Shawn Ray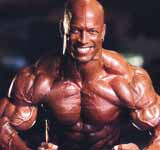 In the middle of the 1980s, he made a name for himself by winning IFBB competitions such as the Teenage National Championships or Mr. California, which he won in 1987 in all categories, thus obtaining his professional card. In 1988 he participated in his first Mr. Olympia, where he is ranked 13th. In 1989 he took a year off to concentrate on training and improving weaknesses, then returns to the competition at the Mr. Olympia 1990 when he won the 3th place becoming a major athlete of the discipline. The same year he won the Ironman Pro and the Arnold Classic, but loses this title because of a positive result to an anti-doping control. In 1991 he won the Arnold Classic for good, then ranks 5th in Mr. Olympia. He then participates each year in Mr. Olympia, always ranking among the top five, until his retirement from the competition in 2001.
12.
Shawn Rhoden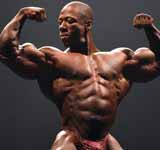 13.
Tom Platz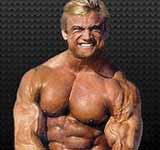 14.
Dexter Jackson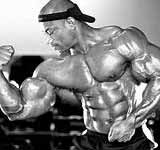 The first competition of Dexter in the NPC (National Physique Committee) was the championship of the southern states of 1992, where he was third. His first Arnold Classic, Night of Champions and Mr. Olympia were all in 1999. He was seventh, third and ninth respectively. At the 2007 Olympia, he was third ahead of Ronnie Coleman, and some criticism he received claimed that he would never get a higher position than that. But the following year he won the 2008 Mr. Olympia held in Las Vegas (USA) ahead of Jay Cutler and Phil Heath, in second and third place respectively. With what has silenced his critics. Dexter has made his appearance in many bodybuilding and fitness articles, including the cover of Muscular Development magazine. In 2013 he won the Arnold Classic thus matching the record of four Arnold Classic of Flex Wheeler.
15.
Flex Wheeler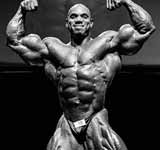 Wheeler was born in a poor family in Fresno (California) and had a very complicated childhood. He was a victim of abuse, had suicidal tendencies and difficulties in school due to dyslexia. To overcome these adversities he began to play sports, he discovered his passion for martial arts, with which he acquired great flexibility that earned him his nickname, and developed his muscles in the gym. After a brief job as a police officer, he began competing in bodybuilding in 1983. His first great national success was "Mr. America Teen" in 1985, four years later he was crowned at the state level with Mr. California, and in 1992 it was consolidated professionally with the title of United States. His greatest success was the four Arnold Classic championships (1993, 1997, 1998 and 2000). Flexibility, symmetrical physique and sometimes arrogant attitude crowned him as one of the most charismatic of the circuit. However, he could never win the "Mr. Olympia", in 1993 he was runner-up against Dorian Yates by a point of difference, while in 1998 and 1999 it was surpassed by Ronnie Coleman.
16.
Samir Bannout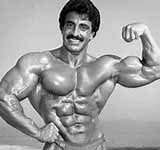 17.
Kai Greene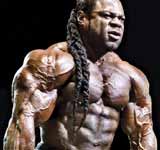 18.
Mike Mentzer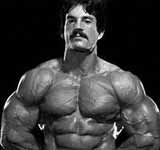 19.
Serge Nubret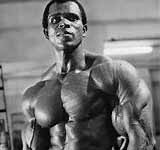 Serge Nubret was a French bodybuilder and actor. Nubret, who won five world titles (Mr. Europe, Mr. Universe, etc.) in bodybuilding (and next in the competition for Mister Olympia in 1975 was second behind Arnold Schwarzenegger), occurred between 1961 and 1986 in several films, and later in guest roles in television series. Three months after his first entry into a weight room, He won the title of Mr. Guadeloupe, obtained again the following year. Sent to Montreal in 1960 to defend the colors of Guadeloupe at the IFBB World Championships, he was voted "most muscular man". Later he became involved in the cultural field by working in violence prevention schools. In 2005, during the youth unrest, he participated in several rounds of talks with then Interior Minister Nicolas Sarkozy.
20.
Kenny Waller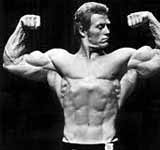 21.
Larry Scott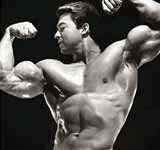 22.
Brandon Curry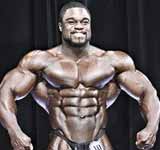 23.
Franco Columbu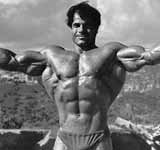 He began his sports career as a boxer, and progressed in the Olympic sport of weightlifting and bodybuilding after winning the title of Mister Olympia in 1976 and in 1981 after the withdrawal of the Austrian oak that with his withdrawal allowed him to win it again. He was a good friend of Arnold Schwarzenegger, whom he met in Munich in 1965 and participated in several bodybuilding competitions internationally. For the Mister Olympia competitions, he competed in the 200-pound (90.7 kg) category, while Schwarzenegger was in the 200-pound category. He served as sponsor at Schwarzenegger and Maria Shriver's wedding in 1986, both arrived in the United States by bodybuilding guru Joe Weider in 1969. The two European bodybuilders started a masonry business called European Brick Works, in 1969, according to a report published by the American newspaper The New York Times.
24.
Breon Ansley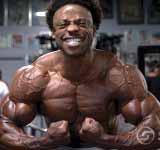 25.
Robby Robinson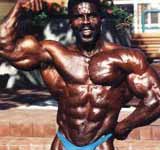 26.
Chris Dickerson