1.
BLACKPINK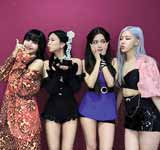 Blackpink is a South Korean girl group founded in 2016 by YG Entertainment. The group consists of Jisoo, Jennie, Rosé and Lisa. The debut single Boombayah of the mini album Square One was released on August 8, 2016. The following mini album was Square Two, with which they won several awards for rookies (newcomers). After that, Blackpink released a few successful singles and albums. Square Up (2018) was their first full length album. The single Ddu-Du Ddu-Du from this album became a hit. In 2018, the girl group contributed to the Complete Edition of Dua Lipa's debut album. They worked together on the single Kiss And Make Up, which became a hit in some countries. In 2020, the girl group contributed to Lady Gaga's album 'Chromatica' where they recorded the hit 'Sour Candy' together with the American pop singer. Also this time the group sings a few sentences in South Korean.
2.
MAMAMOO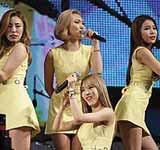 MAMAMOO is a South Korean girl group that was founded in 2014 by WA Entertainment (now Rainbow Bridge World). The group officially debuted on June 19, 2014 with the single Mr. Ambiguous. MAMAMOO's official fan club name is "MooMoo". On June 19, 2014, MAMAMOO made their official debut with the single Mr. Ambiguous and the EP Hello, which had been released the day before. Their style, a mixture of pop with retro R&B with elements of jazz and blues coupled with strong voices of the group, gave them a predominantly good reviews. Single and EP managed both to No. 18 and No. 19 of the Gaon charts. In November 2015, the EP Hello entered the charts again and reached number 16 after MAMAMOO won an award of the TV show "Immortal Song 2".
3.
Itzy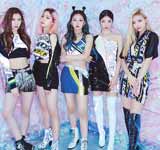 Itzy (Stylized as ITZY), is a South Korean girl group formed by JYP Entertainment in 2019. The group debuted on February 12, 2019 with the release of the single "It'z Different". Information about JYP Entertainment's new girl group was revealed in 2017. In 2018, apprentices Jeon So-mi and Shin Ryu-jin were rumored to be part of the new group. Somi, in 2015, participated in the sixteen program (where Twice was formed), in 2016 at Produce 101, where she won first place and then was part of I.O.I. However, Somi left the company on August 20, 2018. On the same day, JYP Entertainment officially confirmed that Ryujin would be a member of the new group. Ryujin became famous for her appearance in BTS Universe BTS in 2017. Later, she participated in the Mixnine program, where she won first place among the girls. Chaeryeong and her older sister Chaeyeon also participated in Sixteen, a program where Twice was formed, however neither of the two debuted with the group, Chaeyeon then debuted as a member of Iz One. Lia was an apprentice at SM Entertainment, but after leaving the agency she tried to return, being permanently expelled. Yuna, the youngest in the group, made an appearance on Stray Kids.
4.
Twice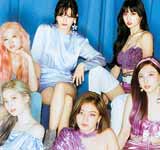 Twice is a South Korean girl group formed by JYP Entertainment through the Sixteen (2015) program. The group consists of nine members: Nayeon, Jeongyeon, Momo, Sana, Jihyo, Mina, Dahyun, Chaeyoung and Tzuyu. 'Twice' officially debuted on October 20, 2015 with the release of The 'Story Begins' mini album. In 2016, 'Twice' shot to stardom with the single "Cheer Up", which ranked first on the Gaon Digital Chart, making it the most popular song of the year. The song also won the award for "Song of the Year" at two of South Korea's top awards, Melon Music Awards and Mnet Asian Music Awards. The aforementioned album was the best-selling girl group album in 2016. Nineteen months after their debut, 'Twice' sold more than 1.2 million copies, through four mini-albums and a special album.
5.
Everglow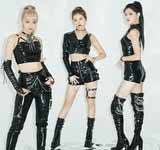 Everglow (STYLED as EVERGLOW) a South Korean band formed in 2019 by Yuehua Entertainment. The team consists of six participants: E:U (leader of the group), Sihyeon, Mia, Onda, Aisha and Yiren. It debuted on March 18, 2019 with the single album Arrival of Everglow. Sihyeon participated in the Survival Show Produce 101 as an individual intern in 2015. She was eliminated in Episode 8 after finishing 40th. After the show, she signed with Yuehua Entertainment. Onda, also known as Cho Serim, was a former contestant on the Idol School show in 2017. She was eliminated in Episode 4 after finishing 40th. Sihyeon, along with Yiren, were contestants in the survival show "Produce 48". Yiren finished 8th in Episode 5, but didn't make it to the final. Yiren was among the winners and made her debut in the design group I'ONE.
6.
(G)I-DLE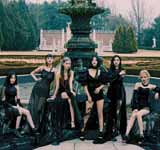 7.
GFriend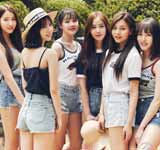 GFriend is a South Korean girl group formed in 2015 by Source Music. The group consists of six girls: Sowon, Yerin, Eunha, Yuju, SinB and Umji. The group debuted on January 15, 2015 with the mini-album "Season of Glass". GFriend has won numerous awards for Best Newcomer Girl Group. On July 23, the group released their mini album "Flower Bud", which solidified the group's success in the Korean music scene. In 2016, they returned to the stage with their third mini-album "Snowflake", topping the music show charts with the title track "Rough". In July 2016, the group released their first full-length album, LOL, to an incredible commercial success. In 2017, GFriend returned with a new concept with their fourth mini-album, The Awakening, and pre-orders for the album exceeded 100,000 copies. GFriend release their fifth mini album "Parallel". In August 2017, the album was reissued a month later under the title "Rainbow".
8.
IZ*ONE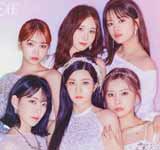 Iz*One (stylized as IZ*ONE), is a South Korean-Japanese women's group formed through the Mnet program, Produce 48. The group consists of twelve members: Kwon Eun-bi, Sakura Miyawaki, Kang Hye-won, Choi Ye-na, Lee Chae-yeon, Kim Chae-won, Kim Min-ju, Nako Yabuki, Hitomi Honda, Jo Yu-ri, An Yu-jin, and Jang Won-young. The group debuted on October 29, 2018 with their first EP Color*Iz. The group consists of the winners of Mnet's survival program "PRODUCE 48", which combines the competition system of the program "PRODUCE 101" with members of the Japanese women's group AKB48. The program featured 96 trainees in total, 57 Koreans and 39 Japanese. Only 12 trainees, regardless of nationality, would become part of the debut group, which she will promote in Korea and Japan for 30 months (2 and a half years). The final lineup featured 9 Korean and 3 Japanese members. On 6 January 2020, member agencies and CJ ENM reached an agreement to continue the group's activities. Iz*One then released their first studio album bloom*Izon February 17. On February 23, Bloom*Iz broke the first week's sales record in Hanteo with 356,313 copies sold. The first trophy for the title song "Fiesta" was on "The Show" on February 25.
9.
Red Velvet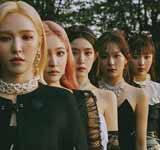 Red Velvet - South Korean girl group formed in 2014 by SM Entertainment, consists of five participants: Irene, Seulgi, Wendy, Joy and Yeri. On August 1, 2014, the band released their first single, "Happiness". Red Velvet is known for their "double concept" called the "red" and "velvet" side, which influences their style and the music they release. The "red" half of the group releases singles predominantly of the pop genre due to their vibrant and younger nature. Their singles "Ice Cream Cake", "Dumb Dumb" and "Red Flavor" are examples. Their more mature velvet concept spawned tracks mainly in the R&B genre. Their singles "Automatic" and "Bad Boy" are considered part of the "Velvet" concept. They often include other genres for two sides, mixing them with genres such as electro pop, hip hop, and disco. This dual concept has earned the band international praise for their versatility and diverse music.
10.
2NE1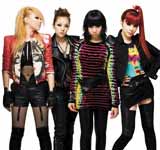 11.
Baby Vox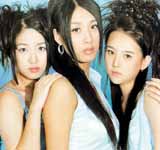 The Baby VOX (acronym of Baby Voice Of Xpression) was a South Korea band, formed in Seoul in 1997 and disbanded in 2006. They were considered one of the three great k-pop girl groups of the nineties along with SES and Fin.KL. They debuted with the single "Hair Cut" inspired by the strong style of the Spice Girls, but were not very successful. After the release of the first album, Cha, Jung and Jang were replaced by Shim Eun-jin, Kan Mi-youn and Lee Gai. Baby VOX participated in an intense training program to improve dancing and singing and adopted the shy and cute style already used by the popular SES and Fin.KL. Baby VOX took a break, and Shim Eun-jin and Yoon Eun-hye left the group in 2005. In March 2006, the dissolution was announced.
12.
Brown Eyed Girls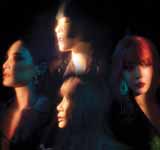 13.
Cosmic Girls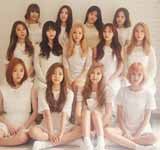 14.
Fin.K.L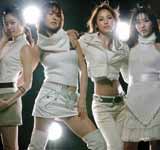 15.
Girl's Day
Girl's Day is a female group of South Korean of K-Pop, created by the agency Dream T Entertainment. The group debuted on July 9, 2010. Their fan club is called DAISY or DAI5Y and currently its four members are: Sojin, Yura, Minah and Hyeri. The Dream T Entertainment agency began promotions for Girl's Day shortly before its debut, with the creation of a YouTube channel and a Twitter account for both the group and each of the members. A fan-made forum was also created and recognized by the agency as its official international forum. The group also released promotional videos showing their dancing skills. These videos were distributed by shopping malls in Seoul, gaining much interest. Girl's Day made its Japanese debut on September 30, with the album Girl's Day Autumn Party featuring the Japanese versions of "Darling", "Twinkle Twinkle" and "Ring My Bell".
16.
I.O.I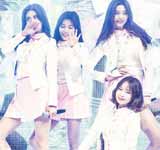 17.
Kara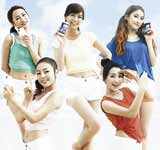 18.
Miss A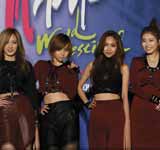 19.
Secret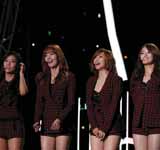 20.
f(x)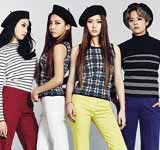 21.
Apink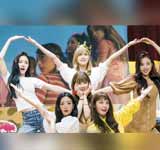 22.
EXID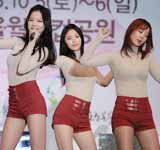 EXID ("EXceed In Dreaming") is a South Korean band formed in 2012 by Banana Culture Entertainment. The group consists of five members: Solzhi, LE, Hani, Hyelin and Jeonghwa. They originally debuted with a six-person band in February 2012 with the single "Whoz That Girl". Hippity Hop's debut EP was released in August of that year. The band gained considerable popularity in 2014 with the release of the single "Up and Down". At first, the song did not show good results in the charts, but four months later became No. 1 in the Gaon Digital Chart after a funkam appeared on the Internet on one of the participants (Dami), which became a viral video on YouTube. Ah Yeah's second EP was released in April 2015. Street's first full-length album was released in June 2016. In early May, Dami and Haeryung members decided not to renew their contracts with Banana Culture. After Kambek on May 15, the group was not disbanded, but took an indefinite break for an indefinite period, so that each participant engaged in individual activities.
23.
Girls' Generation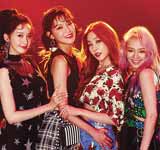 Girls' Generation is a South Korean girl group formed by S.M. Entertainment in 2007. They are also known as SNSD or SoShi, both of which are short for the group's Korean name. The group consists of eight members: Taeyeon, Sunny, Tiffany, Hyoyeon, Yuri, Sooyoung, Yoona and Seohyun. On September 30, 2014, S.M. Entertainment officially announced that Jessica was no longer active in Girls' Generation. Girls' Generation had begun to attract attention early in their careers through songs such as "Into the New World" and "Kissing You", but it was not until 2009 that they gained significant popularity through the single "Gee", which was later named song of the decade in South Korea. The group further established their position in the Korean music industry with subsequent singles such as "Tell Me Your Wish (Genie)", "Oh!", "Run Devil Run", and "Hoot". In 2011, they returned to the Korean music scene with the song "The Boys" released in three languages: Korean, Japanese, and for the first time, English. In the span of five years, the group has sold a total of 4.4 million albums and 30 million digital singles.
24.
Oh!GG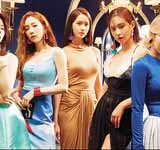 Girls' Generation-Oh! GG (also known as Oh!GG), is the second official sub-unit of the girl group Girls' Generation, formed by SM Entertainment in 2018. It is made up of five Girls' Generation members being them: Taeyeon, Sunny, Hyoyeon, Yuri, and Yoona. The group debuted on September 5, 2018, with the release of the single "Lil' Touch". In August 2017, Girls' Generation released their sixth studio album Holiday Night to mark the 10th anniversary of their debut. The promotion lasted only one week, after which it became known that the members were discussing the renewal of contracts with the agency. On 9 October, it was announced that Tiffany, Sooyoung and Seohyun had not renewed their contracts and had officially abandoned SM Entertainment. Since then, the group's future has been under discussion, although there have been no statements about a split.
25.
S.E.S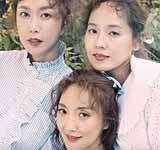 S.E.S. (initials for Sea, Eugene, Shoo) was a 3-member South Korean girl group created by SM Entertainment in 1997 that was formed by members Bada, Eugene, and Shoo. This group is considered the first K-pop girl group to be challenged by groups such as Fin.KL, Baby VOX, and Chakra that debuted long after SES and also enjoyed success. The group officially disbanded in December 2002 after Bada and Eugene's contracts expired, though Shoo also eventually parted ways with SM Entertainment in 2006. Their final release was the compilation album Beautiful Songs released in mid-2003, where they promoted. Their latest original single "S.II.S (Soul To Soul)" from the greatest hits album Friend. In subsequent years, the former members ventured into solo music activities as well as acting, to varying degrees of success.
26.
SECRET NUMBER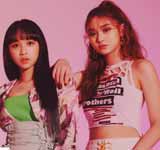 Secret Number (stylized SECRET NUMBER) is a South Korean girl group founded in 2020 by Vine Entertainment. The group debuted on May 19, 2020 with the single album Who Dis?. In December 2019, Vine Entertainment announced the creation of a new girl group. The group's debut was originally scheduled for March 2020, but was postponed. In the following years, the members of the new group were introduced: Léa, Dita, Jinny, Soodam and Denise. Jinny and Denise were already known as former trainees of YG Entertainment. Jinny was part of the Future 2NE1 line-up at the time, which later became the girl group Blackpink. She also took part in the 2018 casting show Produce 48. Denise participated with the group Mazinga S in the 5th season of K Pop Star. Léa was a member of the girl group Skarf from 2012 until its dissolution in 2014 and a participant in the casting show Mixnine. With Dita, Secret Number has the first K-pop idol from Indonesia. On May 19, 2020, Secret Number debuted with the single "Who Dis"?