Rahul Dev Burman (27 June, 1939 - 4 January, 1994) was a famous musician of Hindi films. These were also called 'Pancham' or 'Pancham da'. Burman was the only child of famous musician Sachin Dev Burman and his wife Meera. Due to his unique musical talent, he is considered one of the best musicians in the world.
It is believed that many musicians still imitate their style. Panchama da also gave voice in 18 films composed by him. He also acted in Bhoot Bangla (1965) and Pyar Ka Mausam (1969).
RD Burman started his career as a assistant. Initially, he was a music assistant to his father. Apart from Hindi, he has also worked in Bangla, Tamil, Telugu and Marathi in his film career. Apart from this, they also spread the magic of their voice. Together with his father, he gave many successful songs, which were used in the legendary films.
RD Burman's first film as the composer was 'Chhote Nawab' (1961), while the first successful film was the Teesri Manzil (1966). In the early seventies, RD Burman became a popular musician of the Indian film industry. He sang songs from big artists like Lata Mangeshkar, Asha Bhosle, Mohammad Rafi and Kishore Kumar.
In 1970, he gave music in six films, "Kati Patang" was very successful. R.D. Burman is quite successful as a musician. Later, he gave music in big films like Yaadon Ki Baaraat, Hira Panna, Anamika etc.
R. D. Burman's last film as a composer was the '1942 A Love Story'. This great musician died in 1994. In his lifetime, RD Burman gave all kinds of music to Indian cinema. Today's people also like their music. Even today, his music is used in the film industry.
"Rahul Dev Burman" is at the

6

th Position in this list.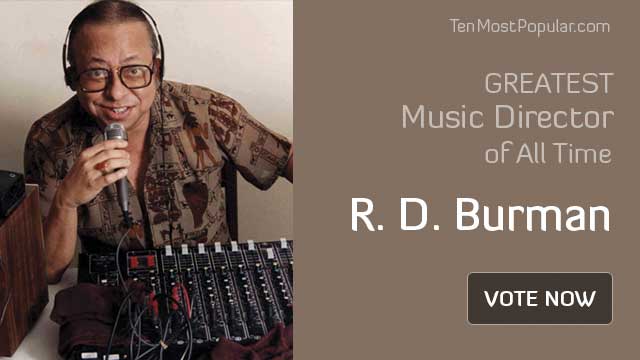 Comments on Rahul Dev Burman