Laxmikant-Pyarelal or LP or Laxmi-Pyare were an Indian duo of Bollywood Film music composers formed of Laxmikant Shantaram Kudalkar (1937-1998) and Pyarelal Ramprasad Sharma (Born 1940). They composed the music of over 500 films from 1963 to 1998 for most Indian directors such as Raj Kapoor, Dev Anand, Feroze Khan, BR Chopra, Shakti Samanta, Manmohan Desai, Yash Chopra, Subhash Ghai and Manoj Kumar. Their regular singer was Lata Mangeshkar who recorded with them a large number of songs with Mohammed Rafi.
Laxmikant was born in a humble family. He learned young self-taught mandolin that he began to play professionally, especially with the musical directors of Bollywood. Pyarelal was born in Gorakhpur (Uttar Pradesh). He is the son of a famous trumpet player Pandit Ramprasad Sharma who taught him the basics of music. He learned the violin at the age of eight in Goa. From the age of 12, he played violin in the studios to support his family. Nevertheless, he continued to train, playing with the Bombay Chamber Orchestra and going to the Paranjoti Academy, which was also attended by Zubin Mehta.
Lata Mangeshkar who decided to introduce them to musical directors such as Naushad, Sachin Dev Burman and C. Ramchandra. Because of their low salaries, the young musicians decided to go to Madras, but they were just as disappointed and soon returned to Bombay where they attended another duet (Shiv-Hari) composed of Shivkumar Sharma and Hariprasad Chaurasia.
From 1953 to 1963 they became assistants of Kalyanji Anandji, making arrangements for Sachin Dev Burman (in Ziddi) and his son Rahul Dev Burman (in Chhote Nawab) who became a good friend, and who played harmonica on their compositions (in Dosti).
They were inspired by the music of the Shankar-Jaikishan duo. Their first film as musical directors was Parasmani. Although the film is low budget, by friendship, Lata Mangeshkar and Mohammed Rafi, agreed to sing for them. It was in 1964 that they obtained a first success with the film Dosti which was famous thanks to this music. They received their first Filmfare Award for Best Music Director.
"Laxmikant–Pyarelal" is at the

2

nd Position in this list.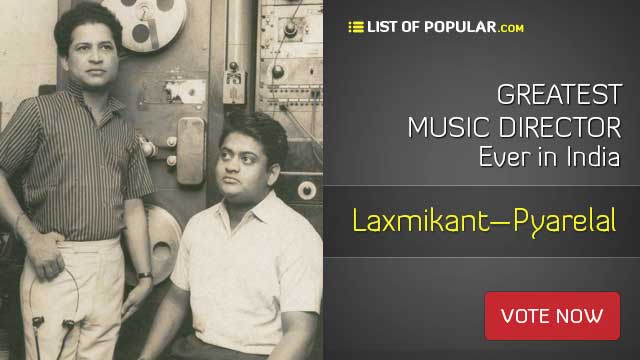 Comments on Laxmikant–Pyarelal