1.
Stray Kids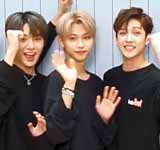 On August 4, 2017, it was revealed that JYP Entertainment is planning to launch a new reality show that will form a new boy group (similarly, TWICE was formed on the reality show "Sixteen" in 2015). More information was revealed over the next two months, and the title was announced - "Stray Kids". Stray Kids is a South Korean boy band formed in 2017 by JYP Entertainment through a reality show of the same name. The group consists of eight members: Bang Chan, Lee Know, Changbin, Hyunjin, Han, Felix, Seungmin and I.N. On January 8, 2018, they released their pre-debut mini album 'Mixtape'. The official debut took place on March 25, 2018 with the mini-album "I Am Not". Woojin left the group on October 28, 2019.
2.
BTS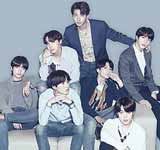 BTS, also known as Bangtan Boys, is a South Korean k-pop group formed in 2013 by Big Hit Entertainment. The group consists of three rappers, namely RM (Kim Nam-joon), Suga (Min Yoon-gi) and J-Hope (Jung Ho-seok) and four singers, Jin (Kim Seok-jin), Jimin (Park Ji-min), V (Kim Tae-hyung) and Jungkook (Jeon Jung-kook). BTS fan club is called ARMY. BTS debuted on June 13, 2013 with the song "No More Dream" from their first album 2 Cool 4 Skool, which won them several awards. A year later, the group received an award for their album Dark & Wild and after two more years for The Most Beautiful Moment in Life: Young Forever. The band became more famous with The Most Beautiful Moment in Life: Trilogy. The Most Beautiful Moment in Life: Part 2 and The Most Beautiful Moment in Life: Young Forever, were all on the Billboard 200. The album The Most Beautiful Moment in Life: Part 2 was number 1 on the Billboard world album charts for several weeks. BTS was the first K-pop band to achieve that.
3.
TXT
TXT, acronym for "Tomorrow X Together", is a South Korean K-pop boy band formed by Big Hit Entertainment in 2019. The group consists of five Members: Soobin, Yeonjun, Beomgyu, Taehyun and Huening Kai. TXT debuted on March 4, 2019 with the EP, "The Dream Chapter: Star". The official name of their fanclub is MOA which means "Moments of Alwaysness". On January 15, 2020, TXT made their Japanese debut with the single album "Magic Hour", which includes the Japanese versions of the songs "Run Away", "Crown" and "Angel or Devil". It debuted at number one on the Oricon Daily chart and at number two on the Oricon weekly singles chart. On 19 January, it was announced that the group would make its debut on Japanese television with their first appearance on Music Station of TV Asahi, which interpreted the Japanese version of "Run Away". TXT became the first Korean artist to perform in the program in 2020. Magic Hour was certified Gold by the Recording Industry Association of Japan (RIAJ) by selling 100,000 units. On April 28, Big Hit Entertainment revealed that the group would release their second EP, The Dream Chapter: Eternity, on May 18 along with the single "Can't You See Me?".
4.
ASTRO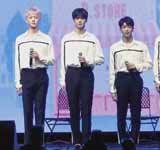 Astro, often stylized ASTRO, is a South Korean boy band formed under the Fantagio agency in 2015. The group consists of six members: Jin Jin, MJ, Eunwoo, Moonbin, Rocky, and Sanha. ASTRO means "star" in Greek, so the name of the band has been justified as follows: the members of the Astro band will be stars for those who love them. Their fandom is called Aroha: (A)st(ro) (H)eart (A)ll Fans. In February 28, 2016 their official colors are announced. These are two shades of purple: Vivid Plum and Space Violet. The group's training stems from the iTeen project, bringing together interns from the Fantagio agency. Their journey could be followed on a youtube channel dedicated to them.
5.
EXO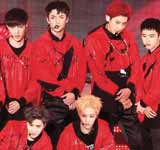 Exo is a South Korean K-pop boy band. Formed by SM Entertainment in 2011, the group debuted in 2012 with twelve separate members in two subgroups, EXO-K and EXO-M, performing music in Korean and Mandarin. As of April 2019, it is made up of nine members: Xiumin, Suho, Lay, Baekhyun, Chen, Chanyeol, D.O., Kai, and Sehun. Their original lineup also included Luhan, Kris, and Tao, who came out after suing SM Entertainment. The group's fan club is EXO-L, who comes from EXO-Love. L means the love you fans EXO, besides being the letter that is between K and M. Their official debut was on April 8, 2012 with the release of the single "Mama" from the self-titled EP. In 2013, they rose to fame by releasing their first studio album XOXO, and the hit single "Growl" selling over two million digital copies of the song in South Korea alone.
6.
Wanna One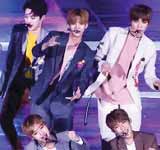 Wanna One was one band boy formed by CJ E&M in 2017 by Survival Program "Produces 101" of Mnet. The group is made up of eleven members chosen from 101 trainees from various entertainment companies: Jisung, Sungwoon, Minhyun, Seongwu, Jaehwan, Daniel, Jihoon, Woojin, Jinyoung, Daehwi, and Kuanlin. Debuted on August 7, 2017, and was active until December 31, 2018 under the direction of YMC Entertainment. On June 1, 2018, the group was transferred to the management of Swing Entertainment.
7.
Monsta X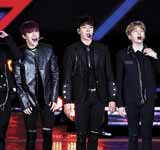 Monsta X is a South Korean boy band formed by the agency Starship Entertainment in 2015 through the program "No.Mercy". The group originally consisted of seven members: Shownu, Wonho, Minhyuk, Kihyun, Hyungwon, Joohoney, and I.M However, on October 31, 2019, Wonho left the group after being involved in an alleged debt scandal, which as he described it, it damaged the group's reputation. Monsta X debuted on May 14, 2015 with the release of the "Trespass" EP. In March 2017, the group released their first studio album and series finale "The Clan", The Clan Pt.2.5: The Final Chapter, which consists of two mini-albums, The Clan Pt.1: Lost and The Clan Pt.2: Guilty, both released in 2016. In May 2017, the group signed with the record label Mercury Records and debuted in Japan with the single "Hero".
8.
SEVENTEEN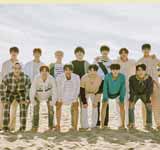 Seventeen, also stylized as SEVENTEEN or SVT is a South Korean boy band formed by Pledis Entertainment (owned by Big Hit Entertainment). The group consists of thirteen members: S.Coups (leader of the entire group), Jeonghan, Joshua, Jun, Hoshi, Wonwoo, Woozi, DK, Mingyu, The8, Seungkwan, Vernon and Dino. The group is also separated into three different units to highlight their areas of specialization: the hip-hop unit (leader: S.Coups) the vocal unit (leader: Woozi) and the performance unit (leader: Hoshi). The group is highly regarded, the members are known to have contributed to the composition and production of all of their songs, as well as to the development of their choreography.
9.
SHINee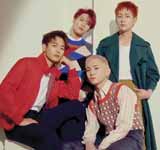 SHINee is a band boy formed by SM Entertainment in 2008. Originally the group consisted of five members: Onew, Jonghyun, Key, Minho and Taemin. However, in December 2017, Jonghyun passed away. Shinee officially debuted in the music program "Inkigayo" of SBS on May 25, 2008 with the single "Replay". Since their debut, SHINee has released nine studio albums (five in Korean and four in Japanese), five mini-albums, three live albums, and several Japanese singles and a Japanese remake of their Korean songs. The group has also won numerous awards, going on four tours and starring in their own reality show. SHINee is considered a fashion icon after creating a dress style called "SHINee Train", in addition to this group, they are also known for their compact and elaborate dance moves.
10.
BIGFLO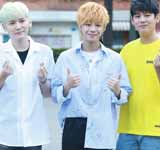 BiGFLO is a seven-member boy band from South Korea, which is under contract with HO Company (temporarily HO Company, from May to August 2016 Hyeyoon Entertainment). On June 19, 2014 BiGFLO debuted with the song "Delilah". The official Facebook page and the official Twitter account were launched on February 20, 2014. On the same day, the first episode of "BIGFLO TV" was uploaded to YouTube, in which viewers can follow the founding members JungKyun, RON, Yuseong, Z-UK and HighTop in various situations. On June 18, 2014, a teaser of the debut song "Delilah" was uploaded to the official YouTube channel. Just one day later, BiGFLO appeared on the music chart show M! COUNTDOWN of the Korean TV station Mnet. The music video for "Delilah" was released on June 22, 2014 and has almost 170,000 views on YouTube.
11.
GOT7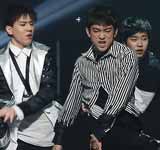 GOT7 is a South Korean boy band formed in 2014 by JYP Entertainment. The group consists of 7 members: Mark, JB, Jackson, Jinyoung, Youngjae, BamBam and Yugyeom. They debuted in January 2014 with the mini-album 'Got It?'. GOT7 has received a lot of attention thanks to their tricking performances. In the year of their debut, the group signed with Sony Music Entertainment and soon debuted in Japan with the single "Around The World". A month later, they returned to Korea and presented their first studio album, Identify, which peaked at the top of the music charts. In 2015, GOT7 released mini-albums 'Just Right' and 'Mad'. The first contained the single "Just Right", which became the most successful of their career. In 2016, the first Japanese studio album, Moriagatteyo, was released and reached the top 3 on the Oricon Albums Chart. "Flight Log: Departure's" fifth Korean mini album was released on March 21 and on September 27, their second Korean studio album, Flight Log: Turbulence, both reached the top of the album charts. In 2017, they released their sixth mini-album Flight Log: Arrival, which was the culmination of the Flight Log series. The seventh mini-album "7 for 7" was released on October 17. Their eighth mini album Eyes on You, was released March 12, 2018, sold over 300,000 copies.
12.
NCT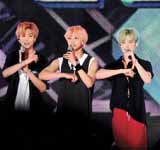 NCT (also Neo Culture Technology) is a South Korean boy group founded by SM Entertainment. The group is divided into the four subgroups NCT 127, NCT Dream, NCT U and WayV and has 21 members. The first members were cast by SM Entertainment in 2013. In April 2016, the first subgroup with NCT U made their debut with the single "The 7th Sense". The song debuted at number 111 of the South Korean single charts. In July 2016, the second subgroup was presented with NCT 127, which released their first Extended Play (EP) "NCT #127" in the same month. The EP reached the top of the South Korean album charts. A month later, SM Entertainment presented the third subgroup of the band with NCT Dream. As the first single of the first EP "We Young" (2017). In March 2018, the group's first studio album, "NCT 2018 Empathy", was released. It debuted at number two of the South Korean album charts, selling over 300,000 copies and was certified platinum. NCT 127 made its first entry into the US charts with "Regular-Irregular".
13.
HALO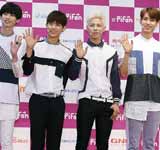 Halo (HALO) has been formed in June 2014 in Republic of Korea. The name was originally reinterpreted to mean 'a group of idols that glow with their existence anywhere'. In addition, it is translated as 'Hexagon of Absolute Light and the Organization', meaning 'a group of six people to give out perfect light'. Member Dino has been serving military service since August 2018. At the end of April 2019, all members exclusive contracts with their agency have expired, but the group will not be disbanded. Before the group was formed, the members worked in various fields. Jae-yong has been active in public service advertisements and many works, and Dino has been a long trainee at various agencies before.
14.
JJCC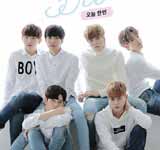 JJCC (pronounced Double-JC), is a South Korean youth hip-hop genre musical band, created by Chinese martial artist, actor and producer Jackie Chan. The group first became known on March 14, 2014 and is currently comprised of E.co, Eddy, SimBa, San-Cheong, and Prince Mak. They performed at a music event called M Countdown. They released their first single titled "At First" on March 24, 2014. Jackie Chan is a longtime K-Pop fan. Seeing the enormous potential and development of Kpop, he decided to form a group and personally manage it. JJCC debut single, "At First", was released on March 24th. JJCC is the first K-pop idol group to be formed by Jackie Chan. During their 'Where You At' promotions, new members Zika and Yul were added.
15.
Troy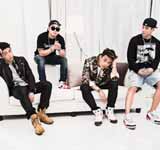 Troy is a hip hop group of the Republic of Korea. This group is debuted in 2014 with <GREEN LIGHT>. The group consists of 4 members: Bumkey, Jaewoong, Changwoo, and Kanto.
16.
UNIQ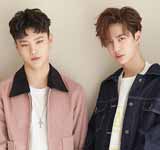 UNIQ is a five-boy group from China and South Korea that debuted in 2014. The affiliated company is Yuehua Entertainment. It name (UNIQ) means that we want to be the one and only team that shows their color by combining the legendary animal UNICORN and various personalities (UNIQUE). Before the group's debut, Zhou Yixuan traveled to Sydney, Australia and learned dance techniques. He then returned to China and was discovered by Yuehua Entertainment after his appearance on KOD, a large dance competition in China. Li Wenhan is trained in classical guitar and swimming, practicing with Chinese Olympic swimming medalist Sun Yang. While attending high school in the United States, he auditioned for Yuehua Entertainment. Wenhan had previously appeared on television in a reality show that aired nationwide in April 2013. Wang Yibo auditioned for Yuehua Entertainment and became a trainee. He had participated in the National HipHop Dance Contest in Luoyang, China in 2011. Seungyoun lived in the Philippines, Brazil and the United States and was a member of the Corinthians youth soccer team. He later returned to South Korea to pursue his dreams as a singer. Sungjoo lived in China before returning to South Korea to pursue his dreams as a singer. There he attended Anyang School of Arts. He was previously a trainee at YG Entertainment for many years before signing with Yuehua Entertainment.
17.
WINNER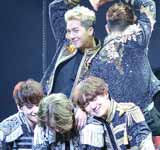 Winner (stylized as WINNER) is a South Korean boy group formed in 2014 by YG Entertainment. It currently consists of four members, Jinwoo, Seunghoon, Mino, and Seungyoon. The fifth member, Taehyun, left the group on November 25, 2016 due to health issues. The group has released two studio albums and one EP. The group was formed through the 2013 reality survival show "WIN: Who is Next", where they competed as "Team A" against other YG Entertainment trainees for a chance to debut as YG's first boy group in eight years, since BIGBANG's debut. At the conclusion of the program, the name "WINNER" was given to "Team A" after winning all three rounds of public voting.