The Powerpuff Girls is an American animated series created by animator Craig McCracken and broadcast on the Cartoon Network. The series focuses on Blossom, Bubbles and Buttercup, three girls with super powers that were artificially created by Professor Utonium. The girls live on the outskirts of the fictional city of Townsville, United States, and often go to the center of the city to save it from various threats using their super powers.
McCracken conceived the series in 1992 as an animated short film titled Whoopass Stew! while he was in his second year at the California Institute of the Arts. Following the popularity of The Powerpuff Girls, Cartoon Network produced the first pilot episodes of the franchise and showed them during the What a Cartoon! between 1995 and 1996. The series made its official debut on April 27, 1998, and completed its original broadcast on March 25, 2005. A total of 78 episodes were produced (not counting the two pilot episodes), in addition to a Christmas special and a movie. Additionally, a tenth anniversary special was produced in 2008 and another CGI special was produced in 2014. For 2016 the series was restarted with the same name but with a different production team that did not include McCracken.
During its broadcast, the series was nominated for six Emmy Awards, nine Annie Awards and a Kids Choice Award. Other derivative merchandise includes an anime adaptation, three original soundtracks, a DVD collection and multiple video games. James L. Venable composed the opening song of the series, while the closing song was performed by the Scottish group Bis.
Plot
The story begins when Professor Utonium does an experiment trying to create the perfect little girl mixing "sugar, flowers and many colors" ("sugar, spice, and everything nice" in the original English version, which translates as "sugar, spices and all good things"). He felt very alone at home, but with the creation of the "little girl" his house would become a beautiful home, located on the outskirts of the city of Townsville (Saltadilla in the Latin American dubbing).
But he accidentally added another ingredient to the formula, "substance X", and after such an explosion the Powerpuff Girls were born, who would look like 7-year-old girls with their super powers: Blossom, Bubbles and Buttercup. But in the movie they say that the teacher had a chimpanzee baby as a pet, who was very naughty and made the professor trip over and accidentally add the chemical X, the radiation of this substance gives the chimpanzee breeding a super brain that It gives great intelligence, but given the rejection of the teacher, he leaves and becomes the main enemy of the girls, always seeking to destroy them and conquer the world.
Development
In the 1990s, Craig McCracken created a series of animated short films based on a character called "No Neck Joe" while attending the animation program of the California Institute of the Arts. In 1991 he drew three little girls on a small napkin as a birthday card for his brother. The three little girls with big eyes (inspired by the art of Margaret Keane) served late McCracken inspiration for what would become his short film Whoopass Stew! "The Whoopass Girls in: A Sticky Situation" (1992), and made him forget the idea of a short film starring a masked fighter. Initially, McCracken sought to animate four shorts of the Whoopass Girls, but only one could be made. Later, McCracken's shorts were selected to be shown at the Spike and Mike Animation Festival in 1994 and with that he managed to officially launch his career as an animator.
McCracken offered his creation to be considered by Nickelodeon before the Hannah-Barbera studios for a cartoon, but channel executives believed that the project was not exactly in the direction in which Nickelodeon was going at the time. In 1993, while McCracken worked on 2 Stupid Dogs, the short of the Whoopass Girls was chosen by Cartoon Network as one of their possible original animated series to be produced. The channel had to eradicate the word "Whoopass" from the title in order to convert the main trio into "The Powerpuff Girls" and integrate the short film into the program What a Cartoon!, where the new animated short films of the chain were shown. The substance that gave life to the protagonists, "the can of whoop-ass", was then renamed to "chemical X". Despite these changes, the main idea of the project remained the same. McKracken's new short film, entitled "The Powerpuff Girls in: Meat Fuzzy Lumpkin", was released during the World Premiere Toon-In block on February 20, 1995, however it lost in popularity against Dexter's Laboratory, the project of former McCraken partner Genndy Tartakovsky. This first short film has been considered "bizarre" for its particular style of physical comedy and meat- based characters.
Dexter's Laboratory became the first original animated series of Cartoon Network. McCracken worked on the series as a storyboard artist, and his drawings were immensely pleasing to executive Linda Simensky, who gave McCracken a second chance to create a new short of The Powerpuff Girls. The second short was titled "Crime 101" and was broadcast in early 1996 within What a Cartoon!.
Series The Powerpuff Girls began their production McCracken command, while Dexter's Laboratory reached its episode number 52 with his production team integrating at The Powerpuff Girls. The premiere of this one was held on April 27, 1998 and became the series with the highest audience points in the history of Cartoon Network at that time. During the broadcast of each chapter, the series remained as the largest audience for an original series of the channel, with a broad demography covering children and adults. It is estimated that 30% of the public had more than 20 years. McCracken insisted on preserving an action style for the series so that it did not become purely feminine due to the immense marketing for girls that it began to generate.
All design work, storyboards and voice acting from the original episodes were sent to Rough Draft studios in South Korea, where all manual animation and production work was done. The post - production work included the correction cells and music composition.
Movie
The Powerpuff Girls Movie premiered in the United States on July 3, 2002. The film, produced by Cartoon Network Studios and Warner Bros., is a prequel to the television series and thoroughly tells the story of how the Powerpuff Girls were created and of how Mojo Jojo became super villain.
The film received mostly positive reviews, with an 88% approval rating on the Rotten Tomatoes web meter. However, he received some controversy over the presence of "frightening images of destruction, violence and animal cruelty". The film grossed the total profit of $16 million USD worldwide, in contrast to its budget of $11 million USD.
Main Characters
Blossom (Bombón in Latin America / Petal in Spain)
She is an avid girl for order, she is the most mature of the three sisters, which is why she tends to fulfill the role of leader in the team. It is characterized by being prudent when addressing problems, although sometimes it tends to be somewhat arrogant due to its intelligence and leadership spirit. Bombòn wears pink, like the color of her eyes, has long red hair, and uses a large red bow and a heart brooch. Its special power is to create ice from its blows.
She has the ability to say the right thing at the right time.
Bubbles
She is a girl with a sensitive personality, she is the most innocent and tender of the three sisters, she is characterized by being fearful and childish. She likes animals and reading, her favorite toy is an octopus called Octi, who takes great care and panics if something happens to her. She wears light blue, like the color of her eyes, is blonde hair with two pigtails. Her special power is to talk to animals.
Bubbles lives in love with the world, can easily perceive when someone is in trouble. The fact that there are people who try to destroy the planet deliberately hurts it, so it is dedicated to fighting the enemies of peace. Her smile and her character bring joy to her sisters. In addition, Bubble knows very well how to be emotional, because whe always expresses her mood to the extreme. If she is happy, everyone finds out and if she is sad, too.
Buttercup (Acorn in Latin America / Cactus in Spain)
She is a girl with a strong personality, she is the most impulsive and rude of the three sisters, and she is always on the defensive. In any dangerous situation, it is the first to react, and also to attack. Due to her great rudeness she likes to fix things with blows, and is also a great instigator to discuss among her sisters. Buttercup is also the first to want to assume the role of leader when Bombón is not or is incompetent to do so. Acorn has black hair, with two points up at the sides. She wears green clothes, like the color of her eyes. Her special power is... to roll her tongue...
Do not think twice before hitting, is what would be called a girl with courage. Sometimes she is in a bad temper and does her best to hide her tender and feminine side. The words are of little use to her, she expresses himself through her actions. She loves her sisters very much although sometimes she argues with them (especially with Bombón / Petalo since Acorn / Cactus is not to follow her plans).
Secondary Characters
Professor Utonium (Professor Utonio in Latin America)
He is a 30-year-old scientist responsible for the creation of the Powerpuff Girls, feels a great love for them and considers them his daughters. Despite being a scientist with great intellectual capacity, he tends to be somewhat naive and shy. The upbringing of the girls is taken very seriously, so, even if they have superhuman powers, they scold them if they do not agree to perform their domestic duties such as tidying their room, bathing or eating all the food. It is characterized by being a scientist by accident, since all his best inventions have been created with certain oversights (including the creation of the Girls), in addition to all his inventions on purpose, are a true failure.
Miss Keane
She is the teacher of the girls' class and who often gives them the way out when they have to save the world. She retains her role in the series as a credible and kind teacher, and also serves as a counselor in case they need it.
Mayor
He is an old man who makes use of a monocle, in addition to wearing a hat and a suit with a ribbon with the inscription "Mayor". He serves as mayor of the city of Townsville, is fearful and is often incompetent to do his job, which is why he must be constantly advised by his secretary, Miss Sarah Bellum, who sometimes must give him quite obvious answers simply because he It is not able to elucidate them. He also has very childish attitudes, such as eating candy, or playing with dolls. Every time the city is in trouble, he takes care of calling the girls through the hotline (telephone), even for absurd reasons such as opening a jar of pickles.
Miss Sarah Bellum (Sara Bello in Latin America)
She is the sexy secretary of the mayor, she wears a red suit that matches her orange hair. Her most iconic feature is that her face is never seen, except for an appearance for a few thousandths of a second during a chapter commemorating the ten years of the series. She is an intelligent and kind woman, who despite the incompetence of her boss the mayor, never loses patience, making good resolutions. The Mayor defines her as the brain of the city, and that Townsville would be nothing if she were not his right hand. She lives on Yodellinda Valley Street, number 69.
Villains
Mojo Jojo
He is the main and most notable villain of the series, whose goal is to end The Powerpuff Girls to conquer the world. He is an ape with high knowledge in science and technology, he uses a kind of helmet on his head to protect his brain, which, being very developed, comes out of his skull. In a chapter it is revealed that before being the gifted villain, he was a common ape, assistant to Professor Utonio in the laboratory before the arrival of the girls, however he was too unruly, to the point that it was he who pushed the teacher while creating the perfect little girl, causing him to accidentally spill the chemical X in the formula, generating a radioactive impact on Mojo, thus becoming the villain Mojo Jojo.
Him (He in Latin America / That in Spain)
It is a demon an effeminate, with a bipolar personality to show rudeness in some cases and unpredictably a feminine attitude in others. His malignancy is so great that nobody dares to name him and that is why he is only called "He/That". In general, his combat methods are not melee and although he has not been quite powerful in this regard, he uses his psychic powers to influence people's behavior and thus conspire against the girls. He / Ese (expressed by Tom Kane) is a mysterious, supernatural, effeminate, immortal, androgynous and demonic monster. His physical appearance is that he has large lobster claws, red skin, pointed ears, hooked nose, greenish yellow eyes and a long curly beard, pink cheeks, black lips, a woman's red jacket, Black leather belt with bronze buckle and skirt with pink tulle on the neck and hemlina. He is thin, tall and wears black boots with heels. His voice extends from an acute falsetto to a deep bass. According to the narrator, in the first appearance of Him / That, he is "so bad, so sinister, so horribly vile, that even the pronunciation of his name strikes fear in the hearts of men". It is shown that it feeds on the negative emotions of human beings and becomes impotent when there is little or no negativity in the air. He refers to the other villains as mortals, which further supports the argument that he is the devil. In one of the original Whoopass Girls shorts, he is identified as the true demon, but never in the regular series. His plans are usually psychological in nature, since they often consist of manipulating events to manipulate the Powerpuff Girls or simply to generate fights between them. Craig McCracken has stated that the character "He/That" was inspired by the Chief Blue Meanie in the 1968 film, Yellow Submarine. Most of the episodes in which it appears are all episodes of a story. Craig McCracken stated that He / That is his favorite villain. Most of the episodes in which it appears are all episodes of a story. Craig McCracken stated that He / That is his favorite villain. Most of the episodes in which it appears are all episodes of a story. Craig McCracken stated that He / That is his favorite villain.
Fuzzy Lumpkins (Peludito in Latin America / Fuzzy Chinchón in Spain)
He is a humanoid creature with pink hair all over his body and you saw as a farmer, he is quite clumsy and has no supernatural power other than throwing rocks. He leads a farmer's life away from the city, seeks tranquility, likes to play his banjo, which he calls "Joy", but he can't stand to handle his things, hence his strong and famous phrase: "Get out of my property!".
Princesa Morbucks (Princess Masplata in Latin America / Princess Plus Banknotes in Spain)
She is a girl who becomes a classmate of the Powerpuf Girls, is pampered and manipulative, has a cocky attitude for being from a wealthy family. She always wants to end the Powerpuff Girls, being her enemy because they don't let her be part of the team. For this she uses highly sophisticated armament that she acquires thanks to the money that her father demands through tantrums of a spoiled girl.
Sedusa
She is a woman who entered the house of the Powerpuff Girls dressed as a good woman, but then they realize that she was a villain who stole the jewels of the mayor of Townsville. She is a villain who wears underwear, and uses her hair to attack her enemies.
The Ameba Band (Boss, Beck and Junior) / The Ameba Boys (Sombrerón, Poncho and Violeta)
They are a trio of amoebas that are not very good criminals, each one has a very different way of thinking, they are of an equal color and all three have super powers. They can enlarge their size at will and can be joined by mitosis to form a gigantic but weak yellow amoeba. They are represented by amoebas.
The Gangrene Band / The Molds
They are a group of juvenile delinquents. Each member comes from families that resemble each other, except that those families do not share the skin color of normal people, as they are green. They continually seek to cause problems. The Banda Gangrena / Los Mohosos, unlike La Banda Ameba / The Ameba boys, are less cowardly and will face those who stand in their way. But they are very weak against Powerpuff Girls and are unable to dominate or be more cunning than they are. True to their name, they are represented by the color green, rather than a symbol.
As
He is the leader of the band. As he lives with his parents, who constantly manifest about how he has changed due to the lack of good parenting. He is always at the forefront of the band's systems and always has the last word about what the band does. However, after their first defeat at the hands of the Powerpuff Girls, he begins to resent them and swears revenge after being defeated. He is very respected by the rest of the band. In battle, Ace throws cards at his opponents, most of whom are aces. He recently joined as a bassist in the Gorillaz band, replacing Murdoc Niccals while he was in jail.
Big Billy
The muscle man from La Banda Gangrena / Los Mohosos. Billy seems to be able to think and can speak without having to say "duuh", but almost never speaks. Billy has a bigger and stronger aunt, an uncle and his older brother. He is a cyclops. He loves to eat and gobble up trash. It uses its size and absolute power.
Arturo
The smallest of La Banda de Gangrena / Los Mohosos. Arturo has seven brothers and is an orphan of parents. He is the least patient in the band and will start to get worried if he stays in one place for a long time. He is the fastest, but he tires easily.
Snake
It is the third highest in La Banda de Gangrena / Los Mohosos. Snake has a father who seems to be involved in a high position or profession. He seems to be the most insecure in the band. Snake is very good for massage and uses it to calm and distract his opponents.
Genius
The weirdest member of the gang. He is usually unable to speak correctly, and makes a strange growl. His father looks like him. Genius can change his form to resemble another person, he can also imitate voices.
The Cocosos / Superapestosos Boys / The Troubled Boys
They are three rude and evil boys created by Mojo Jojo, and they are the direct counterpart of the Powerpuff Girls. They were created based on men's hair, snails, a dog's tail, and a radioactive toilet. They are as powerful as the Girls, but they were destroyed by their kisses. Later He / That revived them and made them immune to their kisses.
Brick (in Latin America) / Brick (in Spain)
Called Bajeza in his first appearance, he is the eldest of the three brothers and the most talkative, he is also the leader, although the boys usually act in unison. It is represented by the color red. Wear a long red hair with tips, and a cap to the side. It is the counterpart of Bombón / Petalo.
Boomer (in Latin America) / Thunder (in Spain)
Called Bandit in his first appearance, he is the most naive of the trio. Like his brothers, he is hateful, but rather clumsy and likes to cause problems. It is the counterpart of Bubble, so it could be considered the most tender of the three. He wears a blue color, and has a blond hairstyle sideways with tips.
Butch (in Latin America) / Butcher (in Spain)
Called Bacteria in its first appearance, it is the most hysterical of the three. Although he acts like the other boys, Butch / Butcher seems to be the least talkative and his voice (in the original English) sounds a little more mature than his brothers' voice, despite being the same age. It is represented by the color green, has black hair combed up. It is the counterpart of Acorn / Cactus.
Anime and manga
The series was adapted to a 52-episode anime, titled Demashita! Powerpuff Girls Z (出ましたっ!パワパフガールズZ Demashita! Pawapafu Gāruzu Zetto), which was produced between Cartoon Network Japan and Aniplex, animated by Toei Animation and broadcast on TV Tokyo from July 2006 to June 2007. The series diverges from its predecessor in terms of style, plot and characterization of characters, being qualified within the genre mahō shōjo. It focuses on the life of Momoko Akatsutsumi (Hyper Blossom), Miyako Gotokuji (Rolling Bubbles), and Kaoru Matsubara (Powered Buttercup), three high school students who received their super powers from the impact of a ray of the so-called Substance Z. A manga adaptation of this anime was illustrated by Shiho Komiyuno and serialized in Japan by Shueisha in Ribbon magazine.
Videogames
The Powerpuff Girls video games are platform games. They were published by BAM! Entertainment It has had about 6 games for portable game console, 5 for PC and 2 for game consoles, has also had participations in varied video games where several characters from Cartoon Network cartoons participate.
The gameplay is a style similar to the Super Smash Bros. video game saga: four characters (playable or CPU) move in a three-dimensional side-scrolling environment fighting each other to increase their damage percentage, sending the opponent each time further the higher the percentage when attacking.
Cartoon Network: Punch Blast
Cartoon Network: Punch Blast is a fighting video game developed by Papaya Studio for Nintendo 3DS. After its release, an extended version was released months later entitled Cartoon Network: Punch Time Explosion XL for PlayStation 3, Xbox 360 and Wii.
Cartoon Network Racing
Cartoon Network Racing is a racing video game developed by Cartoon Network Interactive, Eutechnyx, Firebrand Games and published by The Game Factory for Nintendo DS and PlayStation 2 consoles.
The game reached the market at the end of 2006. It is a crazy racing game, similar to Mario Kart, based on different characters from the most famous animated series on the Cartoon Network television channel.
CGI Special
On January 28, 2013, a special entitled The Powerpuff Girls: Dance Pantsed in CGI format was announced to be released that same 2013, although it was later delayed in the United States to January 20, 2014, in Latin America on April 18, 2014. The special was directed by Dave Smith, who directed the episodes of the series in the past, and had the original cast members retaking their roles. This special marked the first time that the creator of the series Craig McCracken had no participation.
The plot of the episode has Mojo Jojo kidnapping Fibonacci along with an opera singer and a badger. The girls rescue all of them, and defeat Mojo once again with his kidnapping plan. Not dissuaded then goes on to invent a video game the evil called "Dance Pants REVILution" to take the power of the city.
The former Beatle, Ringo Starr, promoted the special with a new original song titled "I Wish I Was a Powerpuff Girl" with previews leading to the date of transmission. Ringo also participated with the character named Fibonacci Sequins in the episode.
"The Powerpuff Girls" is at the

4

th Position in this list.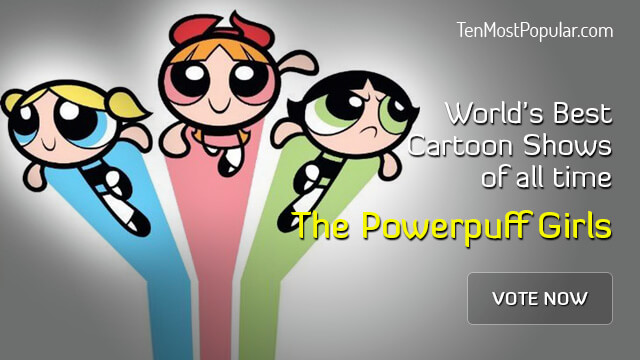 Comments on The Powerpuff Girls