Jackie Chan Adventures is an American animated series produced between 2000 and 2005. The main character is an animated alter ego of actor Jackie Chan.
Jackie Chan lives with his uncle in an apartment about his antique trade in San Francisco and works on behalf of a university as an archaeologist. One day, his niece Jade Chan from Hong Kong appears in San Francisco. Having been involved in school difficulties several times in her homeland, she is now due to go to school in the US and receive help from her uncle and great-uncle.
Season 1: Jackie is recruited as an archeology expert by his old friend Captain Augustus Black, head of the secret anti-crime organization Section 13. A criminal organization called the Dark Hand trying to come up (with symbols of the Chinese horoscope animal) to a series of strange talismans. What Jackie and his friends initially can not know. The Black Hand works with the captured dragon demon Shendu and the talismans, each with his own magical power, have the ability to give him back the freedom. (13 episodes)
Season 2: Banished to another dimension, Shendu seeks to free himself and his demon siblings from captivity by reopening the gates through which the Eight Immortals once banished them. When Jackie and the others learn about this plan, a desperate race against time begins. (39 episodes)
Season 3: A wicked Chi wizard named Daolon Wong tries to take on Shendu's talismans. Jackie manages to destroy him, but his powers are then spread among the finest animals in the world. Jackie and his friends must now find these animals and bring them to safety before Daolon Wong can incorporate the powers of talismans. (17 episodes)
Season 4: Tarakudo, the Lord of the Shadow Warriors, seeks the Oni masks that contain the life force of his generals to bring them back to life and take control of the Earth. It is necessary to collect the masks before the world sinks into darkness. (13 episodes)
Season 5: Draco, Shendu's son from the future, breaks out of his jail and wants to take on the powers of Shendu's demon siblings to conquer the world. And he can only obtain these if he can bring into his possession various artifacts belonging to the Eight Immortals. (13 episodes)
"Jackie Chan Adventures" is at the

11

th Position in this list.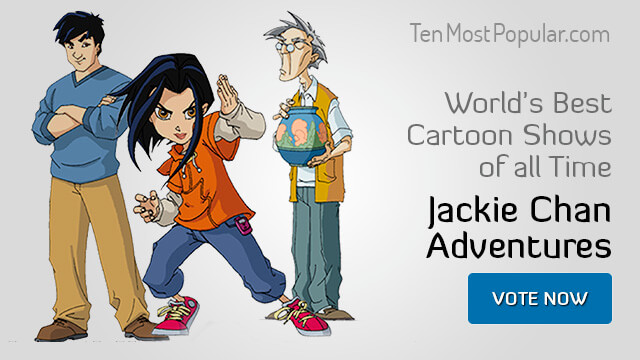 Comments on Jackie Chan Adventures