Talat Mahmood (February 24, 1924 - May 9, 1998) was an Indian singer and actor. Famous by their shaking sound, they are also called the King of the world of ghazals.
He was born on 24th February 1924 in Lucknow. He was the sixth child of his mother and singer father. His father had a desire to dedicate his voice to Allah by giving his voice as Allah's voice and singing only Islamic religious songs called 'Nath'. In childhood, Talat tried to imitate his father, which did not get much support in the home. One of his aunt listened and encouraged him. She also gave adolescent Talat to Morish College for his education of music on his stature.
At the age of sixteen, Talat got the opportunity to sing Kamal Dasgupta's song "Sab din ek saman nahi". This song became very popular in Lucknow after it was aired. Within about a year, the team of famous music recording company HMV came from Calcutta to Lucknow and recorded two of his songs first. After the success of that song, four more Talat songs were recorded, in which Ghazal "Tasveer teri dil mera bahla na sakegi". This ghazal was very liked and later also included in a movie.
"Talat Mahmood" is at the

4

th Position in this list.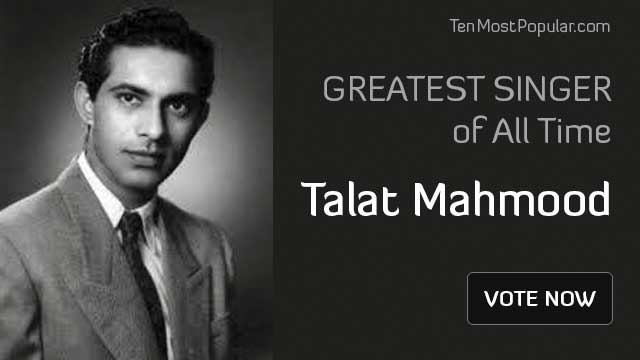 Comments on Talat Mahmood