Shubha Mudgal (born in 1959 in Allahabad) is an Indian singer, one of the most recognized performers for interpreting classical music such as Hindustani, Khayal, Thumri, Dadra and other traditional styles of Indian music. She has been awarded the National Film Award in 1996, for the for Best Non-Feature Film Music Direction of 'Amrit Beej'. She won a gold record as a prize at the 34th International Film Festival in Chicago, after having performed a musical theme for a film entitled "Dance of the Wind" or "Dance of the Wind" (1997) and titled Padma Shri in 2000. She is also part of the progressive movements such as ANHAD and SAHMAT.
She was born into an academic family, Skand and Jaya Gupta, originally from Allahabad, Uttar Pradesh. Her parents were professors of literature and English at the University of Allahabad, although with deep interests in Hindustani classical music and Kathak. Her paternal grandfather was Professor PC Gupta, who was also a professor at the University of Allahabad.
She attended the Convent of Santa María of an Inter-American College. As a child she began to learn to dance a typical dance called "Kathak" in Allahabad, following in the footsteps of her sister. Later she dedicated himself to classical Hindustani music as a vocation of her choice, maintaining the same individualistic attitude. Her first traditional teacher (guru) was Ramashreya Jha.
"Shubha Mudgal" is at the

36

th Position in this list.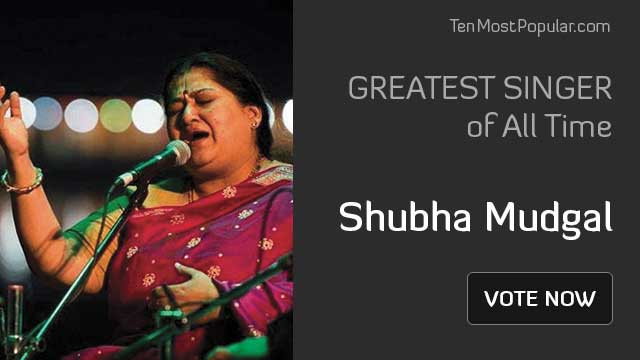 Comments on Shubha Mudgal