Mohammed Rafi (24 December 1924 - 31 July 1980), whom the world calls Rafi or Rafi Saab, was one of the finest playback singer of Hindi cinema. For the abundance of the melodrama and range of his voice, he distinguished himself among his contemporary singers. He is also called as Shahanshah-e-Tarannum. Mohammed Rafi's voice inspired many singers in the upcoming days. The name of Sonu Nigam, Muhammad Aziz and Udit Narayan is notable, though many of these are now their separate identities. He sang 26,000 songs from the 1940s to the early 1980s. These include songs written in Ghazals, bhajans, patriotic songs, qawali and other languages ​​besides mainstream Hindi songs. Those actors who were filmed on their songs include singer actor Kishore Kumar, among others including Guru Dutt, Dilip Kumar, Dev Anand, Bharat Bhushan, Johnny Walker, Joy Mukherjee, Shammi Kapoor, Rajendra Kumar, Rajesh Khanna, Amitabh Bachchan, Dharmendra, Jitendra and Rishi Kapoor. On December 24, 2017, on the 93rd birthday of Mohammad Rafi ji, Google dedicates his memoirs to his songs and memories by making a Google doodle in his memory. This doodle was created by Mumbai painter Sajid Shaikh.
"Mohammed Rafi" is at the

1

st Position in this list.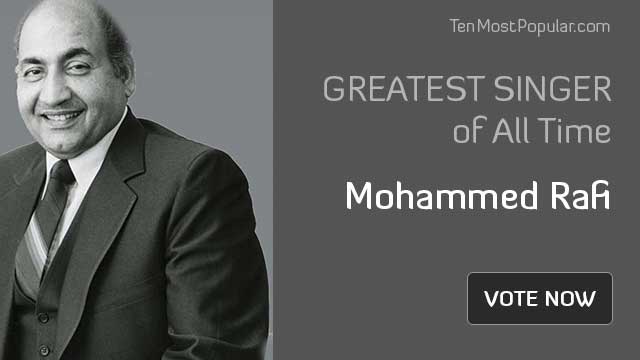 Comments on Mohammed Rafi