Mahendra Kapoor (Born January 9, 1934 in Amritsar, Punjab - Died September 27, 2008 in Mumbai) was an Indian playback singer of the Hindi film.
Mahendra Kapoor was born in Amritsar, then moved to Mumbai. At an early age he was inspired by the singer Mohammed Rafi, he had learn to know and practice classical music, as he began to listen to other well-known classical singers such as Pt. Hussanlal, Pt. Jagannath Bua, Ustad Niaz Ahmed Khan, Ustad Abdul Rehman Khan and Pt. Tulsidaas Sharma. He created his own style and participated in a singing contest called Murphy's Metro that was broadcast all over India, which led to his debut as a playback singer in V. Shantaram's Navrang in 1958, performing the theme song titled "Aadha Hai Chandrama Raat Aadhi", under the musical direction of C. Ramchandra.
There is also an interesting story, associated with the recording of Kapoor's debut song. Minetras performed the song titled "Aadha Hai Chandrama Raat Adhi" with Asha Bhonsle in a recording box, although due to some chord problem, the musical director could not hear his voice. He entered the recording studios and asked why not Kapoor was singing. Asha ji explained that he was singing brilliantly. Then it was found that if he had sung and the problem he interrupted through the audition was solved, otherwise he would have lost his career as a singer.
Mahendra Kapoor was awarded Padma Shri by the Government of India. Kapoor died September 27, 2008 from heart failure.
"Mahendra Kapoor" is at the

32

nd Position in this list.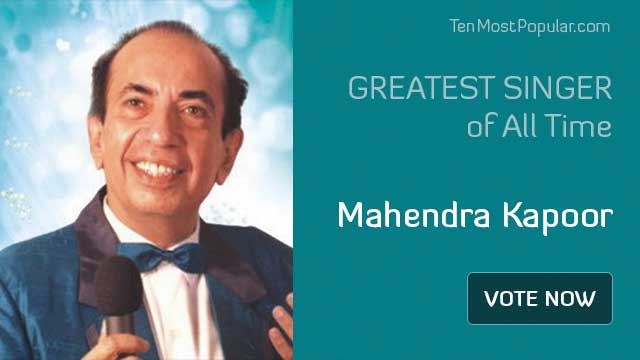 Comments on Mahendra Kapoor