Lata Mangeshkar is an Indian singer who has worked in the Bollywood film industry for more than six and a half decades. She began her career in 1942, and sang for more than 980 Bollywood film titles. Even though most of the songs she performed were in Hindi, Lata sung in 20 regional languages ​​in India. Lata is the eldest of 5 siblings who are all in music industry. Asha Bhoslewas one of her younger siblings who succeeded as a singer, besides her younger brother named Hridayanath Mangeshkar and two brothers Usha Mangeshkar, Meena Mangeshkar.
In March 2001, Lata Mangeshkar received the Bharat Ratna Award which was the highest award for Indian civilians. The Guinness Book of World Records included her name from 1974 to 1991 as a singer with the highest number of recordings in the world. Mangeshkar is claimed to have recorded more than 25,000 songs that she performed solo or duet in 20 languages ​​in India between 1948 and 1974 (30,000 song titles between 1948 and 1987, according to the 1987 edition of the Guinness Book). Although some reference sources support the total number of songs she has performed, a number of sources claim Asha Bhosle, her younger sister as a playback singer with the most number of songs in the world.
Lata also made an album in Indonesia with Rhoma Irama which produced 4 duet albums of songs by Rhoma sung by Lata such as the song Mawar Merah and Orang Asing. While Rhoma sang an Indian song that was changed into Indonesian.
"Lata Mangeshkar" is at the

5

th Position in this list.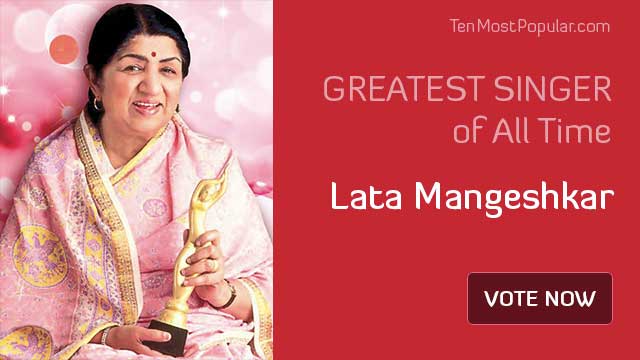 Comments on Lata Mangeshkar