Ubuntu Privacy Remix (UPR) is a modified live CD based on the Ubuntu Linux distribution. UPR is not intended for permanent installation on the hard disk. Ubuntu Privacy Remix is ​​intended to provide a closed-work environment in which sensitive data can be safely processed. The system installed on the hard disk of the computer used for this remains untouched.
The first stable version of UPR was released on December 4, 2008, based on Ubuntu 8.04. Even before the first stable version of UPR, Truecrypt was an essential part of the system.
UPR developers believe that the threat of theft of sensitive data today is no longer limited to ordinary cyber criminals and their Trojan horses, rootkits and keyloggers. Rather, in many countries of the world, the government is taking measures to spy on and monitor citizens' computers by such means. Ubuntu Privacy Remix is ​​designed as a tool to protect your data against unauthorized access.
Ubuntu Privacy Remix contains the two well-known encryption programs TrueCrypt and GnuPG. The authors note, however, that the security of encryption can not be derived in isolation from the encryption program. Operating systems, application programs, personal behavior and of course malicious software such as Trojan horses, rootkits and keyloggers could undermine or even reverse the security of a good encryption program. That's why UPR is committed to providing a complete, unchanging and secure working environment for editing, encrypting and decrypting sensitive documents.
With media, downloads, e-mails, manipulated sites and harmless looking manipulated documents that buffer overflow vulnerabilities exploited in programs and other attack methods are many ways to deal with malicious software to infect, which then endangers the privacy of their own data. Also made especially for drownings belong to the planning of the Federal Ministry of the Interior. UPR provides protection by keeping the system in a clean, unaltered state every time it starts up.
UPR is on a read-only CD, d. H. it can not be changed later. Use only as a live CD is part of the concept and an installation of UPR on the hard disk is deliberately not provided. Spyware and other malware can not be permanently installed. Of course, it must be ensured that the UPR CD came from a secure source and was not replaced later.
"Ubuntu Privacy Remix" is at the

16

th Position in this list.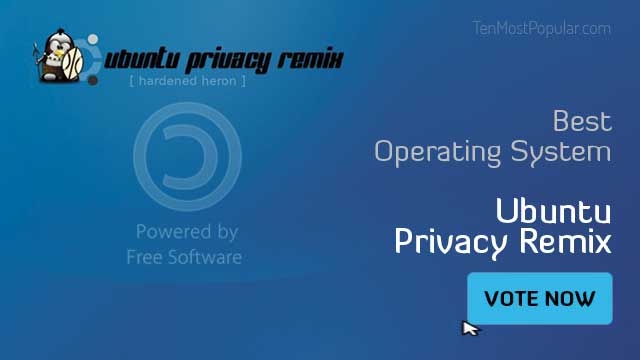 Comments on Ubuntu Privacy Remix