Subhas Chandra Bose - An Indian Nationalist | Biography, Love, Life, Marriage and Death
Subhash Chandra Bose (born: 23 January 1897, died: 18 August 1945), also known as Netaji, was the pioneer and greatest leader of India's freedom struggle. During World War II, he formed the Azad Hind Fauj with the support of Japan to fight against the British. The slogan 'Jai Hind' given by him has become the national slogan of India. His slogan of "Give me blood, I will give you freedom" was also very popular at that time.
Some historians believe that when Netaji tried to get help from Japan and Germany, the British government ordered their spies to kill him in 1941. On 5 July 1943, Netaji addressed the army as "Supreme Commander" in front of the Town Hall of Singapore, "Delhi Chalo!" Gave the slogan and in collaboration with the Japanese Army, the British and Commonwealth Army, along with Burma, took a fierce front together in Imphal and Kohima.
On 21 October 1943, Subhash Chandra Bose, as the supreme commander of the Azad Hind Fauj, formed a provisional government of independent India which was recognized by Germany, Japan, the Philippines, Korea, China, Italy, Manchuko and Ireland. Japan gave Andaman and Nicobar islands to this temporary government. Subhash went to those islands and renamed them.
In 1944, the Azad Hind Fauj attacked the British again and also liberated some Indian territories from the British. The Battle of Kohima was a fierce battle fought from 4 April 1944 to 22 June 1944. In this war, the Japanese army had to retreat, and that proved a turning point.
On 6 July 1944, he released a broadcast from the Rangoon radio station to Mahatma Gandhi in which he sought his blessings and best wishes for victory in this decisive war.
There is controversy even today about Netaji's death. While his martyrdom day is celebrated every year on August 18 in Japan, his family members living in India still believe that Subhash did not die in 1945. He was then under house arrest in Russia. If this is not the case, why has the Indian government not yet made documents related to his death public? (As such, the leader was not killed).
On 16 January 2014 (Thursday), the Calcutta High Court ordered the formation of a special bench to hear a PIL seeking the disclosure of intelligence documents related to the mystery of Netaji's disappearance.
Birth and family life
Netaji Subhash Chandra Bose was born on 23 January 1897 in the city of Cuttack, Odisha to a Hindu Kayastha family. His father's name was Jankinath Bose and mother's name was Prabhavati. Jankinath Bose was a famous lawyer of the city of Cuttack. At first he was a government lawyer but later he started private practice. He worked for a long time in the monarchy of Cuttack and was also a member of the Bengal Legislative Assembly. The British government gave him the title of Raibahadur. Prabhavati Devi's father's name was Ganganarayan Dutt. The Dutt family was considered an aristocratic family of Kolkata.
Prabhavati and Janakinath Bose had a total of 14 children, with 6 daughters and 8 sons. Subhash was his ninth child and fifth son. Of all his brothers, Subhash was most fond of Sharad Chandra. Sharadbabu was Prabhavati and Jankinath's second son. Subhash used to call him Mejda. Sharadbabu's wife's name was Vibhavati.
Love marriage in austria
In 1934, when Subhash was staying in Austria for his treatment, he needed an English-knowing typist to write his book. One of his friends introduced him to an Austrian woman named Emilie Schenkl. Emily's father was a famous vet. Subhash was attracted to Emily and the two fell in natural love. In view of the strict laws of Nazi Germany, both of them got married in 1942 by Hindu method at a place called Bad Gastein. Emily gave birth to a daughter in Vienna. Subhash saw her for the first time when she was barely four weeks old. They named her Anita Bose. Anita was 2 years and 9 months old when Subhash died in a so-called plane crash in Taiwan in August 1945.
Accident and death news
Where Netaji went missing on August 18, 1945 and what happened next has become the biggest unanswered mystery in Indian history. Even today, there is no dearth of people claiming to see and meet Netaji in different parts of the country. Many claims have been made about the existence of Netaji from Gumnami Baba of Faizabad to District Raigad in Chhattisgarh state, but the authenticity of all these is doubtful. In Chhattisgarh, the case of Subhash Chandra Bose went to the state government. But the state government closed the file of the case, considering it not worthy of intervention.
"Subhas Chandra Bose" is at the

15

th Position in this list.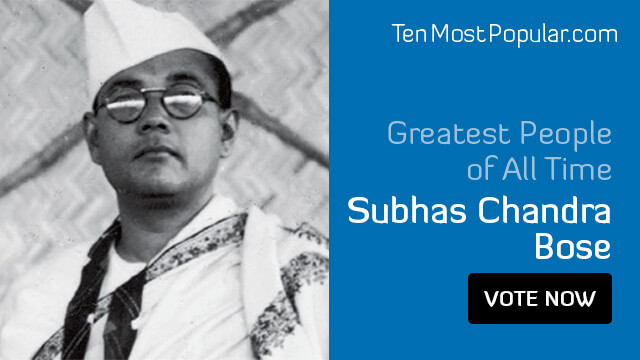 Comments on Subhas Chandra Bose