Maharana Pratap Singh Sisodia was the king of the Sisodia Rajput dynasty in Udaipur, Mewar. His name is immortal for valor and determination in history. He did not accept the subjection of the Mughal emperor Akbar and struggled for many years. Maharana Pratap Singh also defeated the Mughals many times in battle.
He was born in Kumbhalgarh, present-day Rajasthan, to Maharana Uday Singh and mother Rani Jaywant Kanwar. According to author James Tod, Maharana Pratap was born in Kumbhalgarh, Mewar. According to historian Vijay Nahar, Maharana Pratap was born in the palace of Pali according to the tradition of Rajput society and Maharana Pratap's Janam Kundli and record. In the Haldighati war of 1576, Rana Pratap faced the army of 70,000 of Amer Sardar Raja Mansingh with 500 Bhils. The contribution of Bhil Sardar Rana Punja ji in Haldighati war was commendable. Jhala Mansingh saved Maharana Pratap, who was surrounded by the enemy army, and saved his life and asked Maharana to leave the battle ground. Shakti Singh saved Maharana by giving his horse. Dear horse Chetak also died. This war lasted only for one day but it killed 14,000 people. Akbar made all efforts to win Mewar. Maharana's condition worsened day by day. Bhamashah also became immortal by giving a grant worth 12 years to 25,000 soldiers.
Birth place
There are two assumptions on the question of the birthplace of Maharana Pratap. The first Maharana Pratap was born in Kumbhalgarh fort because Maharana Udai Singh and Jayavantabai were married in the Kumbhalgarh palace. The second belief is that he was born in the palaces of Pali. Maharana Pratap's mother's name was Jayavanta Bai, daughter of Sonagara Akhairaj of Pali. Maharana Pratap's childhood was spent with the Bhil community, he learned sword arts along with the Bhils, Bhil calls his son Kika, hence Bhil used to call Maharana as Kika. According to author Vijay Nahar's book "Hinduva Surya Maharana Pratap", when Pratap was born, Uday Singh was surrounded by war and insecurity. Kumbhalgarh was not safe in any way. King Maldev of Jodhpur was the most powerful in North India in those days.
For this reason Pali and Marwar were safe in every way. Hence Jayavanta Bai was sent to Pali. Pratap was born in Pali Marwar on 1540. On receiving the good news of Pratap's birth, Uday Singh's army started the march and won against Banveer in the Mavali war and took possession of the throne of Chittor. According to Devendra Singh Shaktawat, a retired officer of the Indian Administrative Service, the principal associate of Maharana Pratap's book, the birthplace of Maharana Pratap is present in Juni Kachari Pali, the remnant of Maharao's citadel. The temple of Kuldevi Naganachi of Sonagar is still safe. According to the book, according to the old traditions, the first son of a girl is in her pihar.
Life
Rana Uday Singh's second queen Dheerbai, known as Rani Bhatiyani in the history of the state, wanted to make her son Kunwar Jagmal the successor of Mewar. As a successor to Pratap, Jagmal goes into the camp of Akbar as a protest. Maharana Pratap's first coronation took place in Gogunda on February 28, 1572, but Rana Pratap's second coronation took place in Kumbhalgarh fort in 1572 AD, by law, Rathod ruler Rao Chandrasen of Jodhpur was also present in the second coronation.
Rana Pratap had a total of 11 marriages in his life. The names of his wives and his sons and daughters received from them are:-
Queen Ajabde Panwar:- Amarsingh and Bhagwandas
Amarbai Rathore:- Natha
Shemati Bai Hada:- Pura
Alamdebai Chauhan:- Jaswant Singh
Ratnavati Bai Parmar:- Mal, Gaja, Klingu
Lakhabai:- Raibhana
Jasobai Chauhan:- Kalyandas
Champabai Janthi:- Kalla, Sanwaldas and Durjan Singh
Solankhinipur Bai:- Sasha and Gopal
Phulbai Rathore:- Chanda and Shikha
Khichar Ashabai:- Hathi and Ram Singh
The most interesting fact in the reign of Maharana Pratap is that the Mughal Emperor Akbar wanted to bring Pratap under his control, so Akbar appointed four ambassadors to convince Pratap, in which Jalal Khan first entered the camp of Pratap in September 1572 AD., In this sequence Mansingh (in 1573 AD), Bhagwandas (in September 1573 AD) and Raja Todarmal (December 1573 AD) arrived to explain Pratap, but Rana Pratap disappointed the four, thus Rana Pratap refused to accept subjugation of the Mughals resulting in the historic war of the Haldi valley.
Some important facts
1. According to historian Vijay Nahar's book "Hinduva Surya Maharana Pratap", some facts were revealed.
2. Maharana Udai Singh invented a new method of war - the raiding war system. He himself could not use it, but Maharana Pratap, Maharana Raj Singh and Chhatrapati Shivaji Maharaj made successful use of it and succeeded on the Mughals.
3. Maharana Pratap did not lose to the Mughal Emperor Akbar. Washed him and his generals. Pratap won in the battle of Haldighati. Akbar himself attacked Maharana with a large army thrice from June to December 1576, after being defeated against Maharana Pratap in Haldighati, but could not find Maharana but trapped in Maharana's trap and destroyed the army due to lack of food. Exhausted, Akbar went to Malwa via Banswara. After staying in Mewar for seven whole months, he went to Arabia. Three times troops were sent against Maharana under Shahbaz Khan's leadership but failed. After that, under the leadership of Abdul Rahim Khan-Khana, an army was sent against the Maharana and returned by beating. For 9 years, Akbar continued to attack against Maharana with full power, taking damage and finally exhausted, he made Mewar and quit watching.
"Maharana Pratap" is at the

33

rd Position in this list.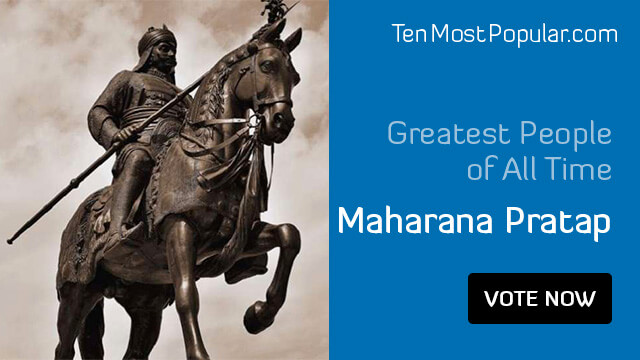 Comments on Maharana Pratap