Bhimrao Ramji Ambedkar (April 14, 1891 - December 6, 1956), commonly known as Babasaheb, was an Indian lawyer, economist, politician and equality fighter who campaigned against the discrimination of the untouchables. His conversion to Buddhism led to the foundation of the Buddhist Dalit movement. He also worked for women's rights and the labor movement. He was the first ever minister of justice of independent India and the most prominent designer of the Constitution of India.
Ambedkar was an excellent student and obtained a law degree and a number of doctorates from Columbia University and the London School of Economics. As a scholar, he gained high esteem with his research into legal, economic and political topics. At the start of his career, he was an economist, professor and lawyer. For the rest of his life he was involved in political activities such as campaigning and the associated negotiations for the independence of India, the publication of magazines that advocated equal political rights and social freedom for the Untouchable, and contributions to the early Indian state. In 1956 he converted to Buddhism, which led to mass conversion among the untouchables.
In 1990 the Bharat Ratna Prize was awarded posthumously to Ambedkar. Ambedkar's legacy includes many memorial sites and he occupies an important place in the collective memory of Indian society.
Young life and education
Ambedkar was born on April 14, 1891 in the military fortress town of Mhow in the Central Provinces (nowadays Madhya Pradesh). He was the 14th and lastborn child of Ramji Maloji Sakpal, an army officer stationed in Subedar, and Bhimabai Murbadkar Sakpal. His family were Marathi from the town of Ambavade (Mandangad taluka), located in the Ratnagiri district of modern-day Maharashtra. Ambedkar belonged to the poor Maharkaste, a low caste of Dalits, which are known in Dutch as the "Untouchable". Those belonging to these castes suffered severe socio-economic discrimination. Ambedkar's ancestors worked for the British East India Company's army, and his father served in the British-Indian Army.
Ambedkar and other untouchable children went to school, but had to sit outside the classroom in isolation from the other children and they received little attention and help with their school work from their teachers. If the untouchable children wanted to drink some water, this had to be poured by someone from a higher caste, because the untouchable children were not allowed to touch the water nor the water jug. Usually the school caretaker performed this task for him. If the caretaker was not present, he would have to do without water. Ambedkar cites this anecdote in his later writings. Ambedkar was not assigned his own chair in school, but he had to sit on a jute bag that he had to take from home.
Ramji Sakpal retired in 1894 and he and his family moved to Satara two years later. Shortly after their move, Ambedkar's mother died. The children were cared for by their paternal aunt and lived in miserable conditions. Only three sons - Balaram, Anandrao and Bhimrao - and two daughters - Manjula and Tulasa - survived their childhood. Ambedkar was the only one of all his brothers and sisters who passed his exams and was allowed to go to high school. His original surname "Ambavadekar" is derived from the name of the village where his ancestors came from, the village of "Ambavade" in the Ratnagiri district. To the Brahmin caste Mahadev Ambedkar, who belonged to him, was very fond of him and changed the surname of Bhimrao from "Ambavadekar" to his own surname, "Ambedkar" in the school archive.
Higher education
Ambedkar's family moved to Mumbai in 1897, where Ambedkar went to the Elphinstone High School and there was the only untouchable one. In 1906, when he was 15 years old, he was married off to a nine-year-old girl named Ramabai.
He graduated from university in 1907 and was admitted the following year to Elphinstone College, an institution affiliated with the University of Mumbai. He became the first untouchable at this university. This feat was celebrated and hailed by the untouchable community and Ambedkar received a biography about Buddha from Dada Keluskar, a friend of the Ambedkar family and the author of the book, after a public ceremony.
He obtained his degree in economics and political science at the University of Mumbai in 1912, and prepared for a job with the government of the state of Baroda. His wife, who was just 15 years old at the time, had moved with him and had just found a job when Ambedkar had to return in a hurry to assist his dying father, who died on February 2, 1913.
He moved to the United States in 1913. This was possible because he had a scholarship, awarded to him by the Baroda government, of £11.50 British pounds a month for three years. This scholarship was part of a program set up by Sayajirao Gaekwad III (Gaekwad of Baroda) that made postgraduate education at Columbia University in New York City possible for less wealthy Indian students. Shortly after his arrival in New York, he moved into rooms in the Livingston Hall, along with Naval Bhathena, a Parsi who has always remained a friend of Ambedkar. He achieved his Masters degree in June 1915, specializing in economics, and as minor subjects in sociology, history, philosophy and anthropology. His thesis was about trade in India in ancient times.
In 1916 he wrote his second thesis, "National Dividend of India-A Historic and Analytical Study" and thus obtained a second master's degree. After moving to London, he obtained his PhD in economics in 1927 with his third thesis. On May 9, he presented his thesis "Castes in India: Their Mechanism, Genesis and Development" during a congress held by the ethnologist Alexander Goldenweiser.
Struggle against untouchability
Ambedkar said "untouchability is worse than slavery". Ambedkar was educated by the princely state of Baroda, and was therefore obliged to serve him. He was appointed the military secretary of Maharaja Gaikwad, but had to leave the job shortly after due to caste discrimination. He described the incident in his autobiography, "Waiting for a Visa". After this, he made a re-attempt to find a living for his growing family, for which he worked as an accountant, and also as a private teacher, and established an investment consulting business, but all these efforts were failed when their customers learned that he was untouchable. In 1918, he became a professor of political economics at Sydenham College of Commerce and Economics in Mumbai. Although he was successful with the students, other professors objected to sharing the pot of drinking water with him.
Ambedkar, as a prominent scholar of India, was invited to testify before the Southborough Committee, preparing the Government of India Act 1919. During this hearing, Ambedkar advocated a separate electorate and reservation for Dalits and other religious communities. In 1920, he started the publication of the weekly Mooknayak from Bombay. This publication soon became popular among readers, when Ambedkar used it to criticize the reluctance of orthodox Hindu politicians and the Indian political community to fight caste discrimination. The speech given during a conference of his Dalit class greatly influenced the local ruler of Kolhapur state Shahu IV, who had a meal in the conservative society with Ambedkar.
While practicing law in the Bombay High Court, he made efforts to promote and uplift the education of untouchables. Their first organized effort was the establishment of the "Central Institute of Excluded Hitakarini Sabha", aimed at promoting education and socio-economic reform as well as the welfare of the "boycott" referred to as the Depressed Classes. To protect Dalit rights, he took out five magazines such as Mooknayak, Bahishkrit Bharat, Samata, Enlightened India and Janata.
In 1925, he was appointed to serve in the Simon Presidency with all European members in the Bombay Presidency Committee. Protests were held across India to protest against this commission. While its report was ignored by most Indians, Ambedkar sent a separate recommendation for future constitutional reforms.
Ambedkar organized a ceremony at the Koregaon Vijay Smarak (Jayastambha) on 1 January 1927 in honor of the Indian Mahar soldiers killed during the Battle of Koregaon on 1 January 1818 under the Second Anglo-Maratha War. Here the names of soldiers belonging to the Mahar community were carved on a marble inscription and made Koregaon a symbol of Dalit self-respect.
By 1927, Dr. Ambedkar decided to start a comprehensive and active movement against untouchability. He struggled to get untouchables the right to enter Hindu temples through public movements, satyagrahas and processions, to open public resources of drinking water to all sections of society. He also launched a satyagraha in Mahad city to get the untouchable community the right to take water from the city's Chavdar pond.
At the conference in late 1927, Ambedkar publicly condemned the ancient Hindu text, Manusmriti, whose many terms openly support caste discrimination and casteism, to ideologically justify caste discrimination and "untouchability", and he formally lit copies of the ancient text. On 25 December 1927, he burnt copies of Manusmriti under the leadership of thousands of followers. In its memory, Manusmriti Dahan Day is celebrated every year on 25 December by Ambedkarites and Hindu Dalits.
Conversion to Buddhism
In the 1950s, Bhimrao Ambedkar was attracted to Buddhism and went to Sri Lanka (then Ceylon) to attend a conference of Buddhist monks and scholars. While dedicating a new Buddhist vihara near Pune, Dr. Ambedkar announced that he was writing a book on Buddhism and would formally adopt Buddhism as soon as it was finished. In 1954 Ambedkar visited Myanmar twice. He went to Rangoon for the second time to attend the conference of the Third World Buddhist Fellowship. In 1955 he founded the 'Buddhist Society of India'. He completed his last famous work, "The Buddha and His Dhamma" in 1956. It was published in 1957 after his death.
On 13 October 1958, Ambedkar took a press conference, he said - "I am going to the shelter of Lord Buddha and his original religion. I am neutral with the prevalent Buddhist texts. The Buddhism I am accepting is Neo Buddhism or Navayana."
On October 14, 1956, Dr. Bhimrao Ambedkar organized a formal public conversion ceremony for himself and his supporters in Nagpur city. The first Dr. Ambedkar, along with his wife Savita and some associates, embraced Buddhism by the monk Mahasthavir Chandramani, adopting the Triratna and Panchsheel in the traditional way. He then converted Navyaan Buddhism to his 5,00,000 followers by offering Triratna, Panchsheel and 22 vows. They were breaking the network of gods and imagining a free man who was religious but did not consider inequality as life value.
Death
Ambedkar was suffering from diabetes since 1948. He remained very ill from June to October 1954, during which he was suffering from weak eyesight. Troubled by political issues, Ambedkar's health deteriorated from bad to worse and the continuous work done during 1955 broke him. Ambedkar died in his sleep in his home in Delhi on 6 December 1956, three days after completing his final manuscript, Lord Buddha and his Dhamma.
Writings and speeches
The Education Department of the local government of the Indian state of Maharashtra has published a collection of the writings and speeches of Ambedkar.
"B. R. Ambedkar" is at the

13

th Position in this list.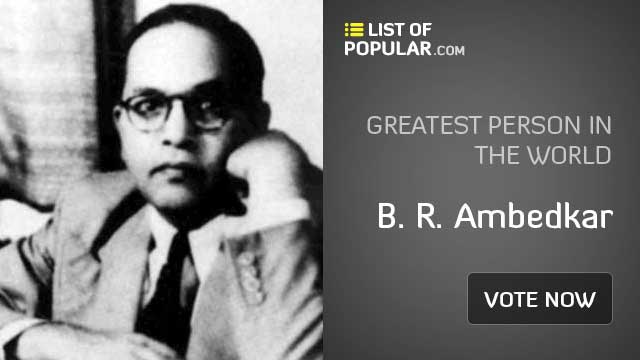 Comments on B. R. Ambedkar