1.
Diwali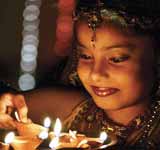 Divali, also called Deepavali, Diwali or Deevali is one of the most important festivals in Hinduism and finds its origin in India. The word is derived from the Sanskrit dipavali, which means a row of lights. The oil lamps, Deep, traditionally a clay-baked lamp, Diya or Dia, with cotton wool and clarified butter (ghee). During the party, the house and the heirs will light the lights. Divali, also known as Festival of Lights, is symbolically referred to as "the victory of good over evil, victory of light over darkness, victory of bliss over ignorance." Celebrating this party is accompanied by the consumption of sweet food. In India they also light fireworks. Divali is a happy party and is often celebrated as a family. It is a party for everyone, young and old, male and female, rich and poor. Divali is celebrated to welcome the light into life.
2.
Holi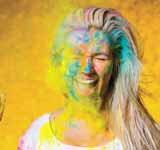 The spring festival, also known as the one of colors and the feast of love, is an ancient Hindu religious holiday that has become popular among non-Hindus in many parts of South Asia, as well as people from other communities. It is celebrated mainly in India, Nepal and other regions of the world with important populations of Hindus or people of Indian origin. The festival has been, in recent times, celebrated in parts of Europe and North America as a spring holiday of love and colors. Holi refers to Joliká, the evil sister of King Hiranyakashipu and aunt of Prince Prahlada. When the powers granted to the king blinded him, believing the only deity that his people should worship, Prince Prahlada decided to continue worshiping Vishnu and angered his father. The king decided to punish his son cruelly, but nothing changed: Prahlada was not going to worship his father. That is why his aunt decided that the only possible solution was to kill the prince and invited him to sit on a pyre with her, who wore a flame retardant mantle that protected him from the flames. But, at that moment, the mantle changed ownership and protected Prahlada, who watched as his aunt was burned by the flames. The god Vishnu, the one the prince worshiped, appeared just then and killed the arrogant king.
3.
Durga Puja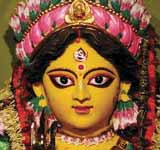 The Durgá Puyá takes place annually throughout the northeast of India (mainly in Bengal), in the month of ashwin (between September and October). The date of celebration is set according to the traditional Hindu calendar. The fortnight that corresponds to the festival is called in Bengali Debí pokkho (fortnight of the goddess). The Deví pokkho is preceded by Majalaia, the last day of the previous fortnight Pitrí pokkho (fortnight of the ancestors), and ends with the Kojagori Lokkhi Puja (worship of the goddess Laksmí on the full moon night of Kojagori). During this holiday, images of the goddess are made and prayers are made for 5 days, accompanied by colorful parades and public and private celebrations.
4.
Raksha Bandhan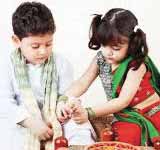 Raksha Bandhan in Sanskrit literally means "the tie or knot of protection." The word Raksha means protection, while Bandhan is the verb to bind. It is a Hindu festival that ritually celebrates love and duty between brothers and sisters. The sister performs the Rakhi ceremony, praying to express her love and desire for the well-being of her brother. In return, the brother ritually agrees to protect and take care of his sister in all circumstances. It is one of the occasions when family ties are reaffirmed in India. The festival is also an occasion to celebrate family ties between cousins or distant relatives and sometimes between biologically unrelated men and women. For many, the festival transcends the biological family, brings together men and women of all religions, various ethnic groups and ritually emphasizes harmony and love. It is celebrated in the month of srava?a of the Hindu calendar, and usually falls in August of each year.
5.
Maha Shivaratri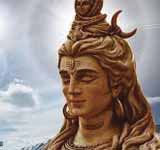 Maha Shivaratri, also called "the great night of Shiva", is a popular Hindu holiday celebrated every year in honor of the god Shiva. Shivaratri literally means the great night of Shiva. It is celebrated on the night of the thirteenth day of the month Phalguna of the Hindu calendar. This festival is celebrated every year on the sixth night of the Hindu month of Phalgun, which usually falls between the months of February and March of the Gregorian calendar. The faithful fast the day before and remain on vigil throughout the night, which they usually devote to the practice of yoga and meditation. The party is also usually accompanied by popular games and celebrations, which vary depending on the region where the party is held.
6.
Kanwar Yatra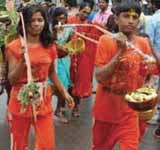 Every year, in the month of Shravan, a large number of crores of Kavandiyas come from remote places and take a Kavad filled with Ganga water and return to their village after taking a pilgrimage, this yatra is called Kavand Yatra. On the day of Shravan's Chaturdashi, Shiva is anointed in Shiva temples around their residence with that Ganges water. To say this is just a religious event, but it also has social concerns. This festival of water journey through Kavand is to worship Shiva in the form of creation. Water, along with the common man, is an extremely important item for tree plants, animals - birds, thousands of insects and residing in the earth and the entire environment. If we look at the geographical location of North India, human life in the plains here depends on rivers.
7.
Kumbh Mela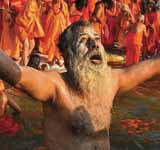 Each twelve-year cycle, when according to Vedic astrology (jyotish), Jupiter enters the constellation of aquarium (kumbha), includes a mahā kumbhamela (or 'great aquarium meeting') in Praiag, on the banks of the Ganges, in the Several million people participate, which probably makes it the biggest pilgrimage celebrated in the world. Estimates consider that in the three weeks of the last mahā kumbhamela (held in 2001), 70 million people gathered. Literally, in Sanskrit, the kumbhá: 'aquarius (jyotish zodiac) jug, pot, pitcher, glass'; la mélā: 'meeting, assembly').
8.
Vijayadashami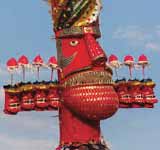 Dussehra, also known as Vijayadashami or Ayudhapuja, is one of the most important Hindu festivals celebrated in India, Nepal, Sri Lanka and Bangladesh, as well as in parts of Pakistan. The name Dussehra is derived from Sanskrit. Dasha-Hara literally means Dashanan Ravan (named after Ravan and in Dasha and Hara (defeat)) in reference to Rama's victory over the ten-headed demon king Ravana. The day also marks the victory of Goddess Durga over the demon Mahishasur. The name Dussehra is also derived from the Sanskrit Ajaja, which means day. For example, Aharnisha is derived from Ajaja + nisha. The goddess fought with the evils for nine nights and ten days. The name Vijayadashami is also derived from the Sanskrit words "Vijaya-Dashami", which literally means victory in the Dashami (Dashmi is the tenth day of the lunar month of the Hindu calendar).
9.
Ratha Yatra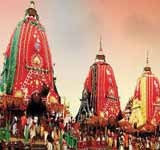 The Ratha-Yatra is a huge Hindu festival associated with the worship of Yáganat, commemorated in the city of Puri, in the state of Orissa, in eastern India, during the month of June. It is the most important festival in the city and it includes the worship of Yagannātha (one of the manifestations of the god Krisna) in the surroundings of the temple, which constitutes an essential part of the area's folklore. The festival celebrates Yagannātha's visit to the temple of Queen Gundicha. The Ratha-iatra or Festival of the Chariots of Lord Yáganat is celebrated every year in Puri, on the second day (dwitiya) of crescent moon (shukla pakshya) of Ashadh Maas (third month in the lunar calendar).
10.
Navaratri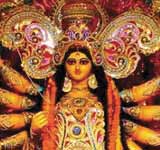 Navratri is a major festival of Hindus. The word Navaratri is a Sanskrit word, which means 'nine nights'. During these nine nights and ten days, nine forms of Shakti/Goddess are worshiped. The tenth day is known as Dussehra. Navratri comes four times a year. Pausha, Chaitra, Ashada, is celebrated in Ashwin month from Pratipada to Navami. The nine nights of Navratri worship the nine forms of the three goddesses - Mahalakshmi, Mahasaraswati or Saraswati and Mahakali, whose names and places are respectively Nanda Devi (Vindhyavasini), Raktdantika, Shakambhari (Saharanpur), Durga, Bhima (Pinjore) and Bhramari (Bhramramba) says Navadurga. Navratri is an important major festival which is celebrated with great enthusiasm throughout India. Navratri is celebrated differently in different parts of India. This festival is widely celebrated in Gujarat. Navratri celebrations in Gujarat are known as Dandiya and Garba.
11.
Krishna Janmashtami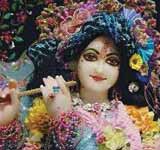 12.
Rama Navami

13.
Chhath

14.
Hanuman Jayanti

15.
Teej

16.
Govardhan Puja

17.
Ganesh Chaturthi

18.
Durga Ashtami

19.
Lakshmi Puja

20.
Makar Sankranti

21.
Naga Panchami

22.
Vishwakarma Puja

23.
Lohri

24.
Bhai dooj

25.
Akshaya Tritiya

26.
Ekadashi

27.
Vasant Panchami

28.
Nirjala Ekadashi

29.
Karva Chauth

30.
Kartik Purnima

31.
Guru Purnima

32.
Kanya Puja

33.
Holika Dahan

34.
Ganga puja

35.
Sharad Purnima

36.
Ganesh Jayanti

37.
Bihu

38.
Agrasen Jayanti

39.
Pitru Paksha

40.
Gudi Padwa

41.
Kali Puja

42.
Magha Purnima

43.
Gita Jayanti

44.
Pongal

45.
Onam

46.
Dahi Handi

47.
Narmada Pushkaram

48.
Prathamastami

49.
Jhulan Purnima

50.
Sarasvati Pushkaram

51.
Gaura-purnima

52.
Chandan Yatra

53.
Rathayatra of Mahesh

54.
Ayudha Puja

55.
Sindhu Darshan Festival

56.
Yatra

57.
Hulivesha

58.
Mesha Sankranti

59.
Festival of Chariots

60.
Harela Mela

61.
Shakambhari Purnima

62.
Dindi festival

63.
Harela

64.
Vishu

65.
Madikeri Dasara

66.
Prabodhini Ekadashi

67.
Thiruvathira

68.
Ahoi Ashtami

69.
Maghi

70.
Ker puja

71.
Atla Tadde

72.
Dhanurmas

73.
Shravana Putrada Ekadashi

74.
Pana Sankranti

75.
Paryaya

76.
Godavari Maha Pushkaram

77.
Tulsi Pujan Diwas

78.
Kamada Ekadashi

79.
Maghotsab of Brahma Samaj

80.
Vat Purnima

81.
Snana Yatra

82.
World Sanskrit Day

83.
Kumauni Holi

84.
Attukal Pongala

85.
Lolark Sasthi

86.
Sadar

87.
Bhima Pushkaram

88.
Nashik-Trimbakeshwar Simhastha

89.
Biruda

90.
Bheemana Amavasya

91.
Tirumala Shanivaralu

92.
Sirimanothsavam

93.
Pausha Putrada Ekadashi

94.
Charak Puja

95.
Hera Panchami

96.
Jagaddhatri

97.
Wangala

98.
Yenya

99.
Datta Jayanti

100.
Gaura Festival

101.
Amalaka Ekadashi

102.
Amavasya

103.
Ambubachi Mela

104.
Anant Chaturdashi

105.
Angarki Sankashti Chaturthi

106.
Ayya Vaikunda Avataram

107.
Balipratipada

108.
Bandna

109.
Basava Jayanthi

110.
Bathukamma

111.
Besan mehndi

112.
Bhadrotsav of Brahmo Samaj

113.
Bhairava Ashtami

114.
Bhishma Ashtami

115.
Bonalu

116.
Brij Mahotsav

117.
Chalio

118.
Champa Sashti

119.
Chandani Padva

120.
Chatar jatra

121.
Chaturmas

122.
Cheti Chand

123.
Chitra Pournami

124.
Coconut day

125.
Danda Nata

126.
Dashain

127.
Deepothsavam

128.
Dev Deepawali

129.
Dhanteras

130.
Dhanu

131.
Dhanu jatra

132.
Dhodha

133.
Dol Purnima

134.
Dola Puja

135.
Eknath Sashti

136.
Gadhimai festival

137.
Gajan

138.
Ganga Pushkaram

139.
Gangaur

140.
Ganivada

141.
Garia puja

142.
Godavari Pushkaram

143.
Golu

144.
Gopastami

145.
Gorehabba

146.
Gowri Habba

147.
Gulal

148.
Heikru Hidongba

149.
Hindola

150.
Jaya Parvati vrat

151.
Jiuntia

152.
Jivitputrika

153.
Juggernaut

154.
Kandali Festival

155.
Kandhei Jatra

156.
Karam

157.
Karthikai Deepam

158.
Kavadi

159.
Kaveri Pushkaram

160.
Kharchi puja

161.
Kottiyoor Vysakha Mahotsavam

162.
Krishna Pushkaralu

163.
Machideva Jayanthi

164.
Maghe Sankranti

165.
Mahalakshmi Vrata

166.
Mahamaham

167.
Mahesh Navami

168.
Mamankam festival

169.
Mandi Shivaratri Fair

170.
Mangalore Dasara

171.
Mitrotsavam

172.
Mohani

173.
Mokshada Ekadashi

174.
Mopin

175.
Mysore Dasara

176.
Nabakalebara

177.
Nag Nathaiya

178.
Nagula Chavithi

179.
Nammoor Jatre

180.
Nandotsava

181.
Naraka Chaturdashi

182.
Nuakhai

183.
Pahan Charhe

184.
Pancha Ganapati

185.
Panchaka

186.
Panchalinga Darshana

187.
Panguni Uthiram

188.
Pargat Diwas

189.
Peshwai Procession

190.
Phalguna Mela

191.
Pongala

192.
Pranahita Pushkaralu

193.
Pushkaram

194.
Puthur-Vela

195.
Radhastami

196.
Raja

197.
Raja Parba

198.
Ramman

199.
Rang Panchami

200.
Ratha Saptami

201.
Rishi Panchami

202.
Sama Chakeva

203.
Sanjhi

204.
Sankashti Chaturthi

205.
Satyanath

206.
Savitri Brata

207.
Sethubandhanam at Sreeraman Chira Chemmappilly

208.
Shayani Ekadashi

209.
Sheetala Asthami

210.
Shigmo

211.
Sindhu Pushkaram

212.
Sitalsasthi

213.
Skanda Sashti

214.
Sohrai

215.
Sri Narayana Jayanthi

216.
Srivari Brahmotsavam

217.
Suna Besha

218.
Swanti

219.
Tamil New Year

220.
Tapti Pushkaravahini

221.
Teejdi

222.
Teejri

223.
Tendong Lho Rumfaat

224.
Thaipusam

225.
Theppothsava

226.
Theppotsavam

227.
Thimithi

228.
Tiruvarur Chariot festival

229.
Tulsi Vivah

230.
Tungabhadra Pushkaralu

231.
Ugadi

232.
Ujjain Simhastha

233.
Vaikuntha Chaturdashi

234.
Vaikuntha Ekadashi

235.
Varalakshmi Vratam

236.
Varuthini Ekadashi

237.
Vasant Navratri

238.
Vat Pournima

239.
Vesak

240.
Vivaha Panchami

241.
Yamuna Pushkaram

242.
Yanam Venkanna Babu Brahmōtsavam

243.
Yanam Venkanna Babu Kalyāṇōtsavam

244.
Yanam Śrī Rājarājeśwara Kalyāṇōtsavam

245.
Yaosang

246.
Zatra