1.
Pushpagiri Medical College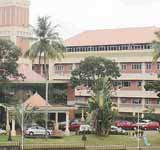 Pushpagiri Medical College, Thiruvalla, Kerala, India (Reg. No. P.73/92) is a charitable Society and run by Thiruvalla Archieparchy of the Syro-Malankara Catholic Church. Pushpagiri Medical College registered under Travancore Cochin Literary Scientific and Charitable Societies Registration Act. In 2019, it is a 900-bed multidisciplinary super specialty hospital.
2.
Dr. Somervell Memorial CSI Medical College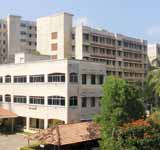 Dr. Somerville Memorial CSI Medical College was established in 2002 in Thiruvananthapuram district, Kerala on the southern boundary of the karakkeanattulla Somervell Memorial Mission Hospital, known as the old hospital in 2002, Dr. Somerville Memorial was merged with CSI Medical College. This Medical College is an Autonomous Institution and a Minority Institution recognized by the Kerala University of Health Sciences and the University of Kerala. The Medical College and other related institutions are run by the South Kerala Diocese of the Church of South India. Administered by South Kerala Medical Mission. The South Kerala Medical Mission Office and the Head Office of the CSI South Kerala Diocese are located at the LMS Compound, Thiruvananthapuram. The director is Dr. J. Bennett Abraham. Karakonam can be reached via Amaravila and Dhanuvachchapuram, 30 km south of the Thiruvananthapuram Central Railway Station. It is located at a distance of 6 km from Kanyakumari Road to Karakonam via Parassala. It can be reached via Parasuvaikkal between Thiruvananthapuram Parassala Road and Vellarada from Thiruvananthapuram. It is located at a distance of 6 km from the Dhanuvachchapuram railway station, which is located between the Thiruvananthapuram Central and Nagercoil railway stations.
3.
Kannur Medical College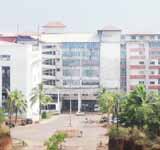 Kannur Medical College is a private medical college located in Anjarakandy in Kannur district of Kerala, India. This medical college is attempting to make medical education as accessible as possible to students.
4.
Amala Institute of Medical Sciences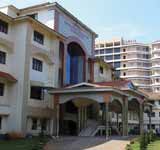 The Amala Institute of Medical Sciences is a private medical university in Amalanagar, in the city of Thrissur, Kerala State, India. It is a Christian minority institution established and administered by the Province of Devamatha of the Carmelites of Mary Immaculate (WCC), an indigenous Catholic religious congregation founded in 1831. The Amala Institute of Medical Sciences was established in 1978 as a non-profit institution for cancer treatment and control in Thrissur. The institution was officially opened on April 25, 1978 by the then President of India, Neelam Sanjiva Reddy. The hospital complex is located on the slopes of Vilangan Hills, with an extension of approximately 40 acre.
5.
Travancore Medical College Hospital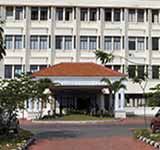 Travancore Medicity Medical College is a private (self financing) medical college in Kollam district. The college is located at Umayanallur on the Kollam Bypass side. The hospital was established in 2008 and is owned by the Kollam Medical Trust. The Medical College, affiliated to Kerala University of Health Sciences, is ISO 9001:2008 accredited.
Believers Church Medical College Hospital is a center of healing for body, soul and mind imparting the healing touch of Jesus Christ to everyone who goes there. Located in Thiruvalla, Kerala this 500-bed hospital exists to show Christ's compassion to the suffering by providing an atmosphere where people can find a wholesome healing. Medical College aim is to bring the best quality healthcare to the reach of the common man using the latest in medical technology. Believers Church Medical College Hospital will not only equip the aspiring medical students to meet the growing healthcare needs of the nation but also instill in them a heart of compassion to serve the poor in the nation. The vision of Believers Church Medical College Hospital is to provide quality healthcare to all, using appropriate technology.
7.
Jubilee Mission Medical College and Research Institute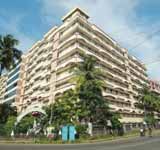 Jubilee Mission medical college Thrissur called 'The Poor Mans Hospital' is a memorial of the sacerdotal Silver jubilee of the late Bishop of Trichur, the first patron of this hospital, Rt. Rev. Dr. George Alappatt. Among the many memorials elected during that year, this hospital stands as the most fitting one expressing his fatherly solicitude to the sick & suffering humanity. The hospital was the first private hospital in Trichur during the period. The organization had a humble beginning with Msgr. Mathew Murigathery as the Director on 17th December, 1951. The hospital started off as a dispensary & later took shape as a hospital in the year 1952 with 20 beds one doctor & two nursing sisters of the Holy Cross sisters from Germany. The building used by the hospital during the inception was owned by St. Mary's Minor Seminary, Thope. His Eminence Cardinal N.T. Gilroy of Australia blessed the hospital in 30th December, 1952 during his visit to Trichur (Card. V. Gracias Present). His Ex. M. Lucas, S.V.D., The Apostolic Internuncio inaugurated the institution on 23rd April, 1953. On the same year Cardinal Tisserant blessed first theatre, it is 53 since the hospital is rendering medical service to the sick irrespective of cast & creed, rich or poor. later the hospital raised up as a medical college.
8.
Amrita Institute of Medical Sciences (AIMS)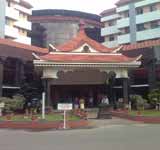 Amrita Institute of Medical Sciences is a healthcare institute established in 1998 in Edappally, Ernakulam district. It is functioning under the Mata Amritanandamayi Math. Amrita Institute of Medical Science (Amrita Hospital) brings together a dedicated team of physicians, nurses, and other healthcare professionals to provide the highest standards of medical treatment. Our full range of primary and specialty care medical services enables cross-specialty consultation, which assures outstanding treatment for each patient. The Amrita Institute of Medical Sciences is adjunct to the term "new universalism" coined by the World Health Organization. This massive healthcare infrastructure with over 3,330,000 sq. ft of built-up area spread over 125 acres of land, supports a daily patient volume of about 3000 outpatients with 95 percent inpatient occupancy. Annual patient turnover touches an incredible figure of over 800,000 outpatients and nearly 50,000 inpatients.
9.
Azeezia Medical College, Kollam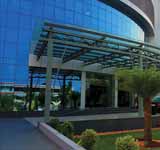 Azeezia Medical College (Azeezia Institute of Medical Sciences and Research) is a private (self-financing) medical college in Kollam district. The college is located at Meenur. Hospital, nursing college and dental college are also functioning. The college was established in 2008. The college is functioning under the supervision of the Dust Musaliar Charitable and Educational Trust. Admission to the college was blocked after the inspection of the monitoring team appointed by the Medical Council of India on July 15, 2010. This action was later cancelled by the High Court.
10.
Karuna Medical College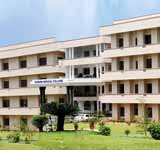 Karuna Medical College is a private self-financing medical school in Vilayodi, Palakkad, Kerala, India. Karuna Medical College, also known as Karuna Institute of Medical Science began in 2006. 7 batches have passed out from the college and it has got its alumni offering noteworthy services and holding various positions.