Premchand (31 July 1880 - 8th October, 1936) is one of the greatest Indian writers of Hindi and Urdu. Original name Dhanpat Rai Srivastava, Premchand is also known as Nawab Rai and Munshi Premchand. Seeing his contribution to the field of novels, noted Bengali novelist Sarat Chandra Chattopadhyaya addressed him as a novel emperor. Premchand wrote Hindi story and novel Developed a tradition that guided the literature of the whole century. By influencing a whole generation of forthcoming, Premchand laid the foundation of the realistic tradition of literature. His writings are such a legacy of the Hindi literature without which the study of Hindi development shall be incomplete. He was a sensitive writer, conscious citizen, skilled speaker and Sudhi (scholar) editor. In the first half of twentieth century, when there was lack of technical facilities in Hindi, their contribution was incomparable. After Premchand, those who worked on advancing the literature with social concerns and progressive values included them from Yash Pal to Muktibodh. His son is the famous literary writer of Hindi, Amritrai, who named him a soldier of pen.
Life Introduction
Premchand was born on July 31, 1880 in Lamhi village near Varanasi. His mother's name was Anandi Devi and the father Munshi Ajaib Rai was a postmaster in Lamhi. His education started with Urdu, Persian, and he had a passion to study lifelong learning from his childhood. At the age of 13, he studied Tilism-e-Hoshruba and got acquainted with the novels of Urdu's famous writer Ratan Nath Dhar Sarshar, Mirza Hadi Ruswa and Maulana Sharar.
After passing matriculation examination in 1898, he was appointed teacher in a local school. He continued his studies with the job. In the year 1910, he passed through English, Philosophy, Persian and History and passed the BA in 1919. After passing, the education department was appointed as Inspector. Due to his mother's death at the age of seven and his father's death at the age of fourteen, his early life was a struggle. His first marriage took place in the age of fifteen years according to the tradition of those days which was not successful.
He was influenced by the Arya Samaj, which was a major religious and social movement of that time. He supported Widow Marriage and in 1906 the second marriage was done by the child widow Shivrani Devi in line with her progressive tradition. He had three children - Sripat Rai, Amrit Rai and Kamla Devi Shrivastav.
In 1910, he summoned the district collector of Hamirpur for short story "Soz-e-Watan" and accused him of provoking the public. All copies of the Soz-e-Watan were seized and destroyed. The Collector instructed Nawab Rai that now he will not write anything, if he, then he will be sent to jail. By this time Premchand was writing in the name of Dhanpit Rai. Editor of Zamana, a journal published in Urdu, and his best friend Munshi Dayanarayan nigam advised him to write with the name of Premchand. After this he started writing in the name of Premchand. He did the initial writing in Zamana magazine.
In the last days of his life he became seriously ill. His novel MangalSutra could not be completed and after a prolonged illness, he died on October 8, 1936. His last novel MangalSutra completed by his son Amrit Rai.
Workspace
Premchand is considered the father of the modern Hindi story and the novel emperor. The beginning of his literary life had started since 1901, but his first Hindi story was published in the December issue of Saraswati Magazine in 1915 with the name Saute and in 1936 the last story was called Kafan. In this period of twenty years, many colors of their stories are seen. Prior to them, fictional, ayyari and mythological religious creations were used only in Hindi. Premchand started realism in Hindi. A lot of discussions of Indian literature, which later emerged prominently, whether it is a Dalit literature or a woman literature, its roots can be seen anywhere in the literature of the Premchand.
According to Premchand's article 'Meri Pahli Rachna', his first creation was a satire written on his maternal uncle, which is now unavailable. His first available writing is his Urdu novel 'Asrar-e-Ma'abid'. Premchand's second novel, 'Hamkhurma-o-Hamsavab', whose Hindi adaptation was published in 1907 under the name 'Prema'. After this Premchand's first story collection came from the name of Soz-e-Watan, which was published in 1908. Soz-e-Watan i.e. the country's pain, due to patriotism, the English government stopped it and warned its author not to do this type of writing in the future. Due to this he had to change their names. His first story with the name Premchand was "Bade Ghar Ki Beti", published in Zamana Magazine in December 1910 issue.
The legend, novel emperor Premchand, used to say that the literary is not the truth behind patriotism and politics, but it is a running reality showing the torch ahead of it. This thing can be seen in their literature. In 1921, he left his job on the advice of Mahatma Gandhi. For a few months, he took over the editing of Maryada Magazine, edited a magazine called Madhuri for six years, started his monthly chart from Banaras in 1930 and started a weekly called Jagaran in early 1932. He chaired the Conference of All India Progressive Writer Association in Lucknow in 1936. He also worked as a story writer in Mohan Dayaram Bhavani's Ajanta Cinetone Company.
He wrote the story of a film called Mazdoor in 1934. Without completing the duration of the contract, he left for two months' salary and came to Benaras, because he did not like the Bombay (now Mumbai) and film industry. He originally wrote stories from 1915 in Hindi and started writing novels from 1918. Premchand wrote a total of about three hundred stories, about a dozen novels and several articles. He also wrote some plays and did some translation work. Many of Premchand's literary works have been translated into several languages, including English, Russian, and German.
Godaan is his one of best composition. Kafaan is considered to be his last story. He wrote in Hindi and Urdu with full authority. Most of his compositions originally written in Urdu, but it first publication was in Hindi. In the creative life of thirty-three years, he has been given such a legacy of literature which is invaluable in terms of qualities and limitless in terms of size.
"Munshi Premchand" is at the

1

st Position in this list.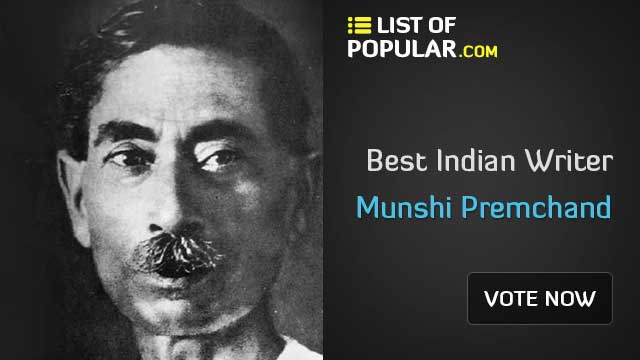 Comments on Munshi Premchand