Mozilla Firefox (abbreviated Firefox) is a free and open source Web browser developed by the Mozilla project and volunteers. Firefox is based on the Gecko - web browser engine from the Mozilla project. The name is an English nickname for the red or small panda.
Firefox is used by 20% to 25% of internet users worldwide. It is widely used by web developers because it follows the W3C standards better than Internet Explorer. In addition, many useful utilities such as extensions for Firefox are available that facilitate the testing and use of internet pages. In January 2015, 18,000 add-ons were available.
In addition, Firefox on Windows is less susceptible to spyware and computer viruses than Internet Explorer. This is partly due to the absence of ActiveX support and because Firefox is strictly separated from Windows.
History
After Microsoft introduced version 4.0 of Internet Explorer in 1997, a browser war began. This was the reason for Netscape to publish the source code of Netscape Navigator as open source in 1998. After this the Mozilla project started. However, the source code of Netscape was not used, because instead the software was completely rewritten. This process continued steadily and through the first public development version ME in March 1999, version 1.0 of the Mozilla Browser Suite was released in June 2002. Because this suite, like the later versions of Netscape, also included an e-mail application, a separate experimental project was started by Dave Hyatt and Blake Ross to separate the browser from the rest of the Mozilla applications. The internal working title of this project was m/b or mozilla/browser.
In September 2002 the first public version 0.1 (Pescadero) was released under the name Phoenix. After a brand name conflict with a PC manufacturer of BIOSs of the same name, Phoenix was renamed Mozilla Firebird from version 0.6 in May 2003. Because this name was already used by the open source database Firebird, the browser was renamed again from version 0.8 in February 2004, this time Mozilla Firefox. The program soon received rave reviews in the international press for its speed, security and ease of use compared to the five-year-old Internet Explorer 6.
Popularity
Firefox's success is partly due to its ease of use and features for safer and faster browsing, such as an integrated pop-up blocker, tabbed navigation and live bookmarks. These functions were not built in at the time with Internet Explorer, but were available as a plug-in.
Since Firefox version 1, the use of Firefox has increased rapidly, at the expense of Internet Explorer. In September 2005, Firefox's market share worldwide was estimated at around thirteen percent. The Netherlands is slightly below that at around 10.2%, Belgium slightly above 14.6%. Finland is a leader with a market share of 38.4%.
On July 31, 2006, Spread Firefox exceeded the 200 million downloads from Firefox. This is of course not an accurate indicator because the program can also be downloaded via third parties (including download.com). Also, this count did not include people who have just updated their version of Firefox, which required a full download and re-installation up to version 1.5. However, users who used the Firefox download option were not included in this count. In addition, Firefox is included with almost all Linux distributions, with the exception of Lubuntu and a few smaller distributions.
OneStat.com, a company that maintains statistics through counters on web pages, provided some data in July 2006. Striking was the continued popularity of Firefox in Germany, where the browser would have a market share of more than 39 percent. Worldwide and also in the Netherlands this fluctuated around 12% according to OneStat.com.
Market research in March 2007 made it clear that market share is increasing in most countries in Europe and worldwide. The Netherlands is one of the few exceptions here. The precise market share is difficult to determine. Other sources again give slightly different figures. In July 2007 a percentage of 9.8% is mentioned for the Netherlands against 12.7% worldwide.
OneStat.com, in November 2008, provided new information about browser market shares. The global market share was set at 14.67% and the market share in the Netherlands at 11.45%.
In May 2009, Firefox had a market share of 22.5% worldwide. It is therefore the second browser after Internet Explorer, which had a market share of 65.5% in the same month.
Firefox celebrated a party on July 31, 2009 for achieving the 1 billion downloads. These are all manual downloads from the browser, and therefore not the automatic updates and downloads from package managers on Linux.
"Mozilla Firefox" is at the

1

st Position in this list.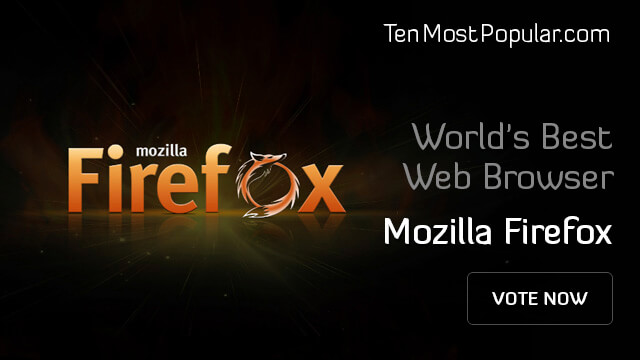 Comments on Mozilla Firefox