Microsoft Corporation (often abbreviated as MS) is an American company based in Redmond, Washington. Microsoft develops, distributes, licenses and supports a wide range of computer-related products. The company was founded by Bill Gates and Paul Allen on April 4, 1975. Microsoft is the world's largest software company. Microsoft is also on the list of companies with the highest stock market value in the world, on April 25, 2019 it was even worth more than US $1000 billion.
The first Microsoft product developed was a BASIC - interpreter for the Altair 8800 (a homebrew computer hobbyists). They managed to take over the PC market with its MS-DOS operating system in the mid-80s of the 20th century. This system was later followed by Microsoft Windows. The popularity of the products meant that three employees became billionaires and 12,000 employees millionaires. Microsoft has taken over various companies since the 90s of the 20th century. In May 2011, it acquired Skype Technologies for US $8.5 billion, making it Microsoft's largest acquisition to date.
In 2016, Microsoft is a dominant company on the market for desktop PC operating systems and the office software package market (with Microsoft Office). The company is also developing more diverse software for workstations and servers, and is active in the search engine market (with Bing), the video game industry (with the Xbox, Xbox 360 and Xbox One Game consoles), the market for online services (through MSN/Windows Live) and mobile phones (with Windows Phone).
The market for selling hardware in the tablet field has also entered the Microsoft Surface. Microsoft also sells various types of other hardware, such as keyboards and computer mice. The Xbox itself is also being developed by Microsoft.
Satya Nadella was appointed CEO of Microsoft on 4 February 2014, succeeding Steve Ballmer.
Windows 10, Nokia and the cloud
On February 4, 2014, Steve Ballmer transferred the position of CEO to Satya Nadella. Windows Phone 8.1 was announced on April 2, 2014, with a public beta on April 14, 2014. One of the major new features was Microsoft Cortana. The acquisition of Nokia was completed on April 25, 2014 and Microsoft started renaming various Nokia products to the Lumia brand name. Microsoft was also required to rename its SkyDrive service, this became Microsoft OneDrive. With 250 million users, Microsoft managed to achieve a great success with OneDrive. Microsoft Azure also continued in its momentum. On September 15, 2014, Microsoft announced the acquisition of Mojang for 2.5 billion dollars. The company was known for its popular game Minecraft. Microsoft announced Windows 10 on September 30, 2014. Windows 10 must put an end to Windows, Windows Phone, Windows Embedded, Windows on Devices, and Xbox One OS and offer a single platform instead.
In July 2015, Microsoft announced that it had written off US $7.6 billion (€6.9 billion) on Nokia's mobile phone branch. This is almost as much as Microsoft paid for it in the summer of 2013. In the first quarter of 2015, the combination only had a market share of 2.5% in the total number of smartphones sold. Microsoft will not stop the development of mobile phones completely.
The company also continued in the Surface line. The sixth version of the Surface tablet and a second Surface Book have already been published. There were also two versions of the Surface Studio and the Laptop as well as a first Surface Go. The Surface that originally contained computers has now also been expanded and now has its own headphones in the range.
Marketing
Microsoft was highly praised in the 1990s for its smart marketing. For example, the company chose to provide all products with the Microsoft brand name. MultiPlan was renamed Microsoft Excel and the word processor Word became Microsoft Word. However, this strategy has taken on major forms: since 2003 Word has been called Microsoft Office Word and in Windows Vista (2007) many already known programs suddenly received a Windows prefix. New .NET components, such as Avalon, were christened under the authority of the Windows Presentation Foundation marketing department. An IEdeveloper joked that IE could be called "IE Desktop Online Web Browser Live Professional Ultimate Edition for the Internet".
Another example is the integration between different Microsoft products (the standard 'Send To' menu option in Office works with Outlook, etc.). The company also publishes regularly on research into the user-friendliness of computer programs and subjects its own programs to tests by people plucked from the street.
The company also concludes various agreements with public institutions, including by regularly making offers at schools and universities, in order to attract young developers and by giving away its own software to third parties.
Antitrust objections
According to European legislation, Microsoft abused its dominant position in the European software market. The company was accused of:
Pushing Real Media out of the market by bundling its own software with Windows. Especially RealPlayer media program by bundling Windows Media Player.
Restrict competition by using proprietary highly popular server protocols with which Microsoft's proprietary software could communicate well, but not competitor software. For example, Active directory and Microsoft Exchange protocols.
Microsoft was sentenced for this with various fines, was forced to deliver a Windows version without Media Player in Europe and to make the server protocols available to competitors for a reasonable fee. Because Microsoft, in the opinion of the EU, did not make the protocols available fast enough, the fine was increased. Microsoft is still appealing about this.
Later, the European browser builder Opera filed a complaint against the browser bundling of Windows Internet Explorer with Windows. Microsoft reached a settlement on this in 2009 with the EU. According to this settlement, Microsoft in Europe must explicitly ask its (private) users if they want to make Internet Explorer or another browser the default browser.
Research
Microsoft Research is the international research branch of Microsoft, which cooperates with various universities, and which carries out fundamental research in addition to applied research.
"Microsoft Corporation" is at the

6

th Position in this list.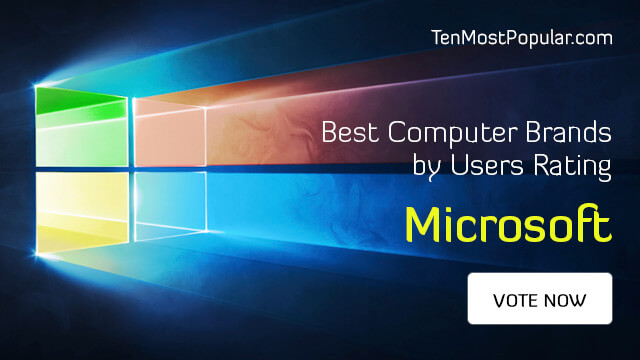 Comments on Microsoft Corporation