Cisco Systems, Inc. is a company founded in 1984 that originally specialized in routers. Today, Cisco produces and sells a wide variety of network equipment for large companies and telecom companies.
Products
Offered are:
Ethernet switches
Routers
Communication products such as IP telephony, VoIP gateways, IP telephones, web conferencing, video conferencing, collaboration software.
IT Security such as firewalls, VPN concentrators, Intrusion Prevention Systems, Antispam gateways, Endpoint security, Anti-ransomware software, Network segmentation.
Data center products such as servers, Storage Area Network (SAN) switches, and DC automation software.
Wireless network products.
Software defined networks.
The company calls itself a Worldwide Leader in Networking for the Internet ("world leader in internet networks"). For example, the Cisco site in Kortrijk (Belgium) develops equipment for the transmission of digital television images.
History
The Leonard Bosack and Sandra Lerner couple worked as computer assistants at Stanford University, and founded Cisco Systems in 1984. Bosack adapted router software, which a colleague of his had started a few years earlier.
Although Cisco was not the first company to develop and sell a router, it was the first company to successfully develop a multi-protocol router with which previously incompatible computers could communicate with each other. With the rise of the IP protocol, the importance of these routers became less.
In 1990 the company went public: it was listed on the Nasdaq stock exchange. Bosack and Lerner left the company with $170 million, their marriage failed.
Through acquisitions, in-house research and development, and partnerships, Cisco expanded its portfolio. In 2003, Cisco acquired Linksys, a popular manufacturer of network equipment that also positioned itself as a leading brand for the SOHO market.
Origin of the name
The name "Cisco" is a shortening or aphaeresis from San Francisco. According to John Morgridge, Cisco employee and former leader, the founders came up with the name and logo when they drove to Sacramento to register the company. The name of the company was originally written with a small c because of its origin: "cisco Systems". Today, the company is officially called "Cisco Systems, Inc".
Since the introduction of the latest version of the company logo, the company name is only communicated as "Cisco" (without Systems). The company logo indicates the origin of the company: it is a stylized representation of the Golden Gate Bridge in San Francisco.
Certification
In addition to the manufacture of (network) hardware, Cisco also provides certification. Some well-known Cisco certification processes are CCENT (Cisco Certified Entry Networking Technician) CCNA/CCNP (Cisco Certified Networking Associate/Professional), CCDA/CCDP (Cisco Certified Design Associate/Professional) and CCIE (Cisco Certified Internetwork Expert). These are certification processes that focus on networks (routers and switches) in general. In addition, certification processes for specific technologies such as voice and security ("security") have existed for some time (CCVP and CCSP, the latter was replaced by "CCNP Security" at the end of 2011). The Cisco Network Academy Program (CNAP) is an initiative of Cisco to train students in ICT together with governments, educational institutions and other non-profit organizations.
Cisco Campus Amsterdam
Cisco had a new office building built on Haarlerbergweg in Amsterdam-Zuidoost in 2001/2002. It was a reserve location that Cisco would move into here after a spot in Amsterdam Westpoort had expired, the company could expand here. The design of the office building was in the hands of HOK, which would later also build an office for Cisco in San Jose, California. They had just designed the PTA (Passenger Terminal Amsterdam) just before that. Initially it looked as though Cisco would use the entire building, this turned out to be too widely used later, several companies, such as ING Group, entered the building.
"Cisco Systems" is at the

19

th Position in this list.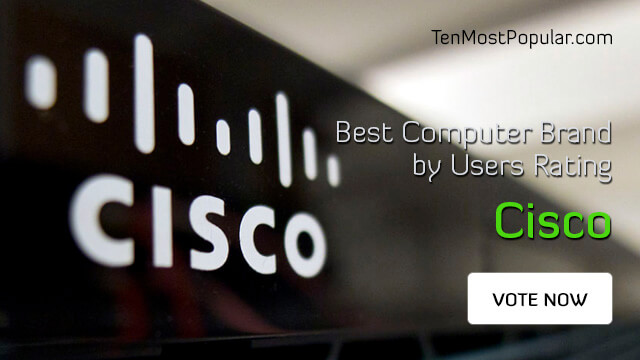 Comments on Cisco Systems