Advanced Micro Devices (AMD)
Advanced Micro Devices, Inc. is an American semiconductor company established in Santa Clara, California, which develops computer processors and related technology products for the consumer market. Its main products include microprocessors, chipsets for motherboards, auxiliary integrated circuits, embedded processors and graphic processors for servers, workstations, personal computers and applications for embedded systems.
AMD is the second provider of microprocessors based on the x86 architecture and also one of the largest manufacturers of graphic processing units. It also owns 8.6% of Spansion, a non-volatile flash memory provider. In 2011, AMD ranked 11th in the list of semiconductor manufacturers in terms of revenue.
Corporate history
Advanced Micro Devices was founded on May 1, 1969 by a group of Fairchild Semiconductor executives, including Jerry Sanders III, Edwin Turney, John Carey, Steven Simonsen, Jack Gifford and 3 members of the Gifford team, Frank Botte, Jim Giles and Larry Stenger The company began producing logical integrated circuits, then entered the RAM business in 1975. That same year it made a copy of Intel 8080 microprocessor using reverse engineering techniques, which he named as AMD 9080. During this period, AMD also designed and produced a series of Bit slicing processors (Am2901, Am29116, and Am293xx) that were used in various microcomputer designs.
During that time, AMD tried to change the perception of RISC with its AMD 29k processors and tried to diversify it by introducing graphic and video units as well as EPROM memories. This was successful in the mid-1980s with the AMD7910 and AMD7911, one of the first units that supported several Bell and CCITT standards in 1200 half-duplex or 300/300 full duplex baud. The AMD 29k survived as an embedded processor and AMD spin-off Spansion became a leader in flash memory production. AMD decides to change course and focus solely on the Intel-compatible microprocessors, placing it directly in competition with it and the flash memories destined for secondary markets.
AMD announces the acquisition of ATI Technologies on July 24, 2006. AMD pays $4.3 billion in cash and 58 million in shares for a total of 5.4 billion. The acquisition was completed on October 25, 2006 and now ATI is part of AMD.
In December 2006, AMD and its main competitor, Nvidia, were informed that they could be violating antitrust laws including the ability to set prices.
In October 2008, AMD announced plans to split manufacturing operations in the form of a multi-billion dollar joint venture with the Advanced Investment Co. technology company, an investment company formed by the Abu Dhabi government. The new company is called GlobalFoundries Inc.. This alliance would allow AMD to focus solely on chip design. The split was accompanied by the loss of about 1,000 jobs, or about 10% of the global AMD workforce.
In August 2011, AMD announced that former Lenovo executive Rory Read would join the company as CEO, after Dirk Meyer.
AMD announced in November 2011 plans to lay off more than 10% (1,400) of employees from all divisions worldwide. This action would be completed in Q1 2012 with most of the dismissals made before Christmas 2011. AMD announced in October 2012 that it plans to lay off an additional 15% of its workforce with an undetermined effective date to reduce Costs for decreasing sales revenue.
AMD acquired the manufacturer of low consumption servers SeaMicro in early 2012 as part of a strategy to recover the lost market share in the server chip market.
8086, Am286, Am386, Am486, Am5x86
In 1982 AMD signed a contract with Intel, becoming another licensee manufacturer of 8086 and 8088 processors, this because IBM wanted to use Intel 8088 on its IBM PCs, but IBM policies of the time required at least two providers for its chips. AMD later produced, under the same agreement, 80286, or 286 processors, but Intel canceled the contract in 1986, refusing to disclose technical details of the i386. The growing popularity of the PC clone market meant that Intel could produce CPUs on its own terms and not IBM's.
AMD appealed that decision and subsequently won under judicial arbitration. A long judicial process began that would only end in 1991, when the California Supreme Court finally ruled in favor of AMD, and forced Intel to pay more than $1 billion in compensation for contract violation. Subsequent legal disputes focused on whether or not AMD had legal rights to use microcode derivatives from Intel. The failures were favoring both parties. In view of the uncertainty, AMD was forced to develop "clean" versions of the Intel code. Thus, while an engineering team described the functions of the code, a second team without access to the original code had to develop microcode that performed the same functions.
At this point, Jerry Sanders could well withdraw from the market. But in 1991 AMD launched the Am386, its clone of the Intel 80386 processor. In less than a year AMD sold a million units. The AMD 386DX-40 was very popular among small independent manufacturers. Then, in 1993, Am486 arrived, which, like its predecessor, was sold at a significantly lower price than the Intel versions. Am486 was used in numerous OEM equipment and even by CompaqProving its popularity. But again it was a clone of Intel technology, and as the PC industry cycles shortened, cloning Intel products was an increasingly less viable strategy since AMD would always be behind Intel.
The 30 of December of 1994, the California Supreme Court ultimately denied the right to use AMD microcode of i386. Subsequently, an agreement between the two companies (whose terms still remain in the greatest of secrets) allowed AMD to produce and sell microprocessors with Intel 286, 386, and 486 microcode. The agreement seems to have allowed some cross-licensing of patents, allowing to both parties the use of technological innovations without payment of fees. Beyond the specific details of the agreement, since then there have been no significant legal actions between the companies.
K5, K6, Athlon, Duron and Sempron
The first x86 processor completely manufactured by AMD was the K5 launched in 1996. The "K" is a reference to kryptonite, which according to the comic tradition, is the only substance, which can harm Superman, a clear reference to Intel, which dominated the market at that time, as "Superman". The number "5" refers to the fifth generation of processors, in which Intel introduced the name Pentium because the US Patent Office. He ruled that a single number could not be registered as a trademark.
In 1996, AMD acquired NexGen primarily for the rights of the NX series of x86 compatible processors. AMD gave the NexGen design team its own building, left them alone, and gave them time and money to rework the Nx686. The result was the K6 processor, introduced in 1997. Although the K6 was based on Socket 7, some versions such as the K6-3/450 were faster than the Intel Pentium II (sixth generation processor).
The K7 is AMD's seventh-generation x86 processor, making its debut on June 23, 1999, under the Athlon brand. Unlike previous AMD processors, it could not be used on the same motherboards, due to licensing problems on Intel Slot 1, AMD then decides to use the letter "A" that refers to the Alpha processor bus as its name. Duron was a limited and lower-cost version of the Athlon (64KB instead of 256KB L2 cache) with a 462-pin PGA socket (Socket A) or soldered directly to the motherboard. SempronIt was launched as a lower-cost Athlon XP processor replacing Duron in the "A" PGA socket, since then this line has been maintained and updated to the AM3 socket.
On October 9, 2001, Athlon XP was released, followed by Athlon XP with 512 KB of L2 cache on February 10, 2003.
AMD64/K8
K8 is a great revision of the K7 architecture, whose most notable improvement is the addition of 64-bit extensions over the x86 instruction set. This is important for AMD since it marks an attempt to define the x86 standard and impose itself, instead of following the standards set by Intel. And in this regard, AMD has succeeded. The story has taken a turn and Microsoft adopted the AMD instruction set, leaving Intel the reverse engineering work of the AMD specifications (EM64T). Other notable features of K8 are the increase in general purpose records (from 8 to 16 records), the Direct Connect Architecture and the use of HyperTransport.
The AMD64 project may be the culmination of the visionary strategy of Jerry Sanders, whose corporate goal for AMD was to turn it into a powerful research company in its own right, and not just a low-cost clone factory, with narrow profit margins.
AMD Opteron is the version for corporate servers of K8, and although it was conceived by the company to compete against the Intel IA-64 Itanium line, given the low sales and production volumes of the latter, it currently competes with the Intel Xeon line.
Turion 64
The processor AMD Turion 64 is a low - power version of the processor AMD Athlon 64 intended for laptops, which came to compete against the technology Centrino of Intel. They are presented in two series, ML with a maximum consumption of 35 W and MT with a consumption of 25 W, 27 W compared to the Intel Pentium M. besides that, there are millions of them.
Phenom (K10)
In November 2006, AMD made public the development of its new processor with code name "Barcelona", launched in mid-2007. With this processor the K8L architecture is started.
After Intel's total dominance with its "CORE" architecture, AMD had to re-design its production technology and finally make the leap to the 65nm and native Quad Core, unlike the Quad FX, which are 2 dual core in The same motherboard. A native Quad core (Monolithic), means that the four processor cores are completely independent of each other, unlike the "Kentsfield" (2 "Conroe") and the "Clovertown" (2 Kentsfield) of Intel, and the Quad FX from AMD itself. The first processors to use the Barcelona core will be the Quad Core Opteron.
features
65nm manufacturing process.
Configuration and compatibility for multi-socket (4x4) platforms.
4MB of cache L3. (Shared for the 4 cores).
9512KB of cache L2. (For each core).
Hyper Transport 3.0
Support for DDR3 memories.
Support for extended SSE4 instructions.
Athlon II and Phenom II
Finally, AMD passed 65nm to 45nm in manufacturing with its new AMD Athlon II and Phenom II. Both use both Socket AM2 + and AM3, thus having support for DDR3.
In Dual Core "X2" are the models: 555, 560. (Compatible with AM2 + and AM3). With an 80W TDP. With some motherboards, the 2 cores can be unlocked to the Phenom II X2, so it would become a Phenom II X4, with the 4 cores running, that is, because in the manufacturing process, if they do not pass the quality tests and give some fault, disable cores, cache and/or similar. For example, a Phenom II 965BE with 4 cores is subjected to rigorous tests, if one of its cores has failures, they disable it and sell them as an inferior model.
In Quad Core "X4" are the models: 955BE, 965BE, 970BE. (Compatible with AM2 + and AM3). With a TDP of 125W in revision C3, there are also 140W, but they were from a previous review, C2. The acronym BE, means Black Edition, are the ones with the multiplier unlocked, to perform a better overclocking. These processors are called under the name of Deneb.
In Six Core "X6" are the models: 1055T, 1075T, 1090T, 1100T. (Compatible with AM3). With a TDP of 140W. The 1090T and 1100T processors are BE. These are called Thuban.
Fusion, Bobcat, Bulldozer and Vishera
After the merger between AMD and ATI, the initiative with the code name "Fusion" announced that some of its main chips will be attached to the CPU, including a minimum 16-lane PCI Express link to accommodate external PCI Express peripherals, which eliminates completely the need for a northbridge on the motherboard. In the initiative it is seen as part of the processing originally done on the CPU (for example, floating point unit operations) is transferred to the GPU, which is better optimized for calculations. This merger was disclosed by AMD as an accelerated processing unit (APU).
Llano was the second APU released, aimed at the general market that incorporates a CPU and GPU on the same chip, as well as Northbridge functions, and labeled in the new AMD timeline with the use of "Socket FM1" and DDR3 memory. These, however, were not based on the new bulldozer core and would in fact be similar to the Phenom II "Deneb" processor that serves as AMD's high-end processor, until the launch of the new 32 nm parts. On September 28, 2011, AMD said that in the third quarter of 2011 it will not have a 10% increase in revenue as planned before, due to the manufacturing problem with 32nm Fusion Llano chips.
Bulldozer is the key name of AMD for the second CPU release for desktop processors launched on October 12, 2011. This 15h family microarchitecture is the successor of the 10h (K10) family with M-SPACE microarchitecture and design methodology. Bulldozer is designed from scratch, it is not a development of previous processors. The core is specifically aimed at computer products with 10-125 watts of TDP. AMD aims to dramatically improve performance efficiency per watt in high performance computing (HPC) applications with Bulldozer cores.
Vishera is the series of AMD processors that succeeded Bulldozer.
Bobcat is AMD's latest x86 processor core for the low-cost and low-power market. It was revealed during a speech by AMD executive vice president Henri Richard at Computex 2007 and was put into production in the first quarter of 2011. One of the main supporters was executive vice president Mario A. Rivas who considered it difficult to compete in the x86 market with a single core optimized for the 10-100 watt range and actively promoted the development of a simpler core with a target range of 1-10 watts.
Chips based on ARM architecture
AMD plans to launch an ARM chip in 2014 for use on servers as an alternative to current x86 low-power chips as part of a strategy to recover lost market share in the server chip business.
Chips based on Zen and Zen 2 architecture
Zen is a new architecture for CPUs and APUs of the Ryzen series based on x86-64. The architecture was built from scratch by a team led by Jim Keller, from 2012 to 2015. Although it was not until 2017 when it reached the market with AMD.
One of AMD's main objectives with Zen processors was to increase the CPI by at least 40%, but in February 2017 AMD announced that it had achieved a 52% increase. Processors manufactured with Zen architecture are built using 14 nm FinFET. The previous AMD processors were 32 nm ("Bulldozer" and "Piledriver" CPUs) or 28 nm ("Steamroller" and "Exca"). Because of this, Zen is much more energy efficient.
The Zen architecture is the first to include AMD CPUs and APUs built for a single socket on the AM4 Socket. Another novelty of this architecture is the implementation of simultaneous multithreading (SMT) technology, something that Intel already had in some of its processors with its patented SMT Hyper-Threading implementation. Zen also has support for DDR4 memory.
AMD released the Ryzen 7 high-end CPUs of the "Summit Ridge" series on March 2, 2017, the Ryzen 5 mid-range CPUs on April 11, 2017, and the basic range Ryzen 3 CPUs on the 27th of July 2017. In January 2018 AMD announced its Ryzen 2. And in May 2019 it announced the third generation of Ryzen that will use Zen 2 architecture. These new Ryzen 3000 stand up for the first time in a long time, in gross performance to the most powerful Intel processors. In addition, with its 7 nm construction and thanks to its IHS soldier its overclocking capacity is very high.
50X15 Initiative
It consists of half of the population having the ability to connect to the internet by 2015. This is achieved through competitions between universities in several countries where they develop the best solutions for each region of the planet based on AMD technology. In addition there are prestigious multilateral organizations among which we can find FAO and UNICEF.
AMD/ATI
After completing the purchase of ATI in 2006, AMD is restructured as the only company in the world that provides a range of solutions in all branches of microprocessors, graphics cards and chipsets. Thus it also becomes the world's largest producer of TV chips, consoles and mobile telephony in the world, with this AMD today becomes Intel's biggest rival in terms of semiconductor solutions. In late 2010 AMD, which is a subsidiary ATI announced that the Radeon HD 6000 from Series ATI AMD brand be replaced to help boost AMD Vision and platforms AMD Fusion.
Geode
In August 2003, AMD also purchases the Geode Company (originally Cyrix MediaGX) from National Semiconductor to extend its existing line of x86 products for integrated systems. In mid-2004, it launched its low-consumption Geode processors with a maximum speed of 1.4 GHz and maximum consumption of 19W.
There are 3 families of processors within the range of Geode processors:
AMD Geode LX, specially designed for "Light Client" based on x86 platforms, interactive "set-top boxes", single-board computers, Personal Agendas (PDAs), and mobile devices for Internet and entertainment.
AMD Geode NX, designed for "Light Client", point of sale terminals (POS), kiosks, high performance printers and home multimedia systems.
AMD Geode GX 533 @ 10.1W Processor, specially designed for broadband Internet applications, and also with a consumption of only 10.1 W.
AMD Ryzen 1st and 2nd generation processors
AMD Ryzen ™ Threadripper processors (8 to 32 cores, Up to 64 threads, 20 MB to 40 MB cache).
AMD Ryzen ™ 7 processors (8 cores, 16 threads, 20 MB cache memory).
AMD Ryzen ™ 5 processors (4 to 6 cores, Up to 12 threads, 10 MB to 16 MB cache).
AMD Ryzen ™ 3 processors (4 cores, 10 MB cache).
AMD Ryzen 3rd generation desktop processors
AMD Ryzen 3000 series desktop processors are based on the Zen 2 architecture, which is characterized by the use of chiplets. This allows greater flexibility to take advantage of the new node manufacturing 7 nanometer to TSMC for higher performance, increasing frequencies, instructions per cycle and the number of cores. In its presentation during Computex 2019, AMD showed that these processors were capable of beating Intel productsin mononuclear and multicore performance, in addition to being considerably more efficient. A 16-core processor is expected to be announced later, but for now the only officially confirmed processors are the following:
AMD Ryzen ™ 9 processors (12 cores, 24 threads, 70 MB cache).
AMD Ryzen ™ 7 processors (8 cores, 16 threads, 36 MB cache).
AMD Ryzen ™ 5 processors (6 cores, 12 threads, 35 MB cache memory).
These processors is available to the public from July 7, 2019.
AMD Current Graphics Cards
Radeon RX VEGA
Radeon RX 500 Series
Radeon RX 400 Series
Radeon Pro
Radeon Vega VII
"Advanced Micro Devices (AMD)" is at the

15

th Position in this list.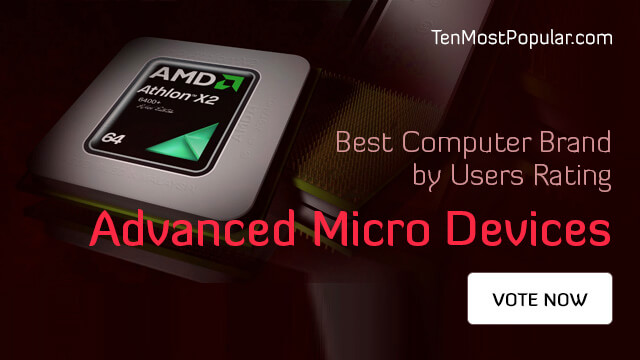 Comments on Advanced Micro Devices (AMD)