Alienware is an American computer hardware company and a wholly owned subsidiary of Dell. The company mainly produces desktops and laptops for high-quality games and graphic applications, such as video editing, simulation and audio editing. Alienware also sells peripherals such as headsets, computer mice, monitors and keyboards.
Founded in 1996 by Nelson González and Alex Águila, Alienware Corporation is an American hardware company that assembles desktop computers, laptops, workstations and PC game consoles. According to the employees, the name Alienware was chosen due to the fans of the founders of the successful television series The X-Files, therefore, the theme of their products, with names such as Area-51, Hangar 18 and Aurora.
At the Consumer Electronics Show 2008 in Las Vegas prototype was presented with something that looked like a huge, curved widescreen', ie a screen that is equal in size to two slightly curved LCD screens from 61 cm to stuck together. Alienware was founded in 1996 by Nelson Gonzalez and Alex Aguila. Alienware's head office is in Kendall, Florida.
The company is based in The Hammocks, Miami, Florida. In 2002, it launched the first laptops that would change the scenario of the games since laptops would become a more realistic option for players. In 2004, Alienware drives the computer industry forward with the first desktop computer to use liquid cooling method, The ALX. In 2008, it broke the 4.0GHz barrier for the first time with the over clocking of the Area-51 ALX. In 2012, X51 Desktop computer is launched, making Alienware equipment more accessible than before for players.
History
Founded in 1996, Alienware manufactures high-performance desktops and laptops. According to the employees, the name Alienware was chosen because the founders loved the television series The X-Files. They obviously also use this theme for their products, which have names such as Area-51, Hangar18, m15x, m17x and Aurora. Alienware was originally intended as a niche brand in the game market, which was not yet occupied by major computer manufacturers such as Dell. The company's products are not only famous for their hardware, but also for their unique, futuristic designs.
Operations
Alienware obtained revenues of 170 million dollars in annual sales, minimizing expenses to promote an international expansion initiative launched in 2003 to maintain a presence in Australia, Canada, France, Germany, the United Kingdom and Costa Rica.
Alienware is no longer a member of the BBB (Better Business Bureau) of South Florida.
In 2002, Alienware distributed its systems through Best Buy and CompUSA in retail locations. Because of all the complications that occurred with that distribution method, Alienware decided to serve the customer via direct sales and has, since then, had an indirect sales presence.
Products
Alienware's products are marked with a stylized alien head.
Alienware sees itself as a quality supplier and operates a high-price policy and largely incorporates components of well-known manufacturers. Many criticize the price-performance ratio, as the PCs are available from other retailers apart from the cases at much lower prices. Alienware has built the image of a Nobel PC retailer through careful processing. The PCs could be purchased until December 2009 exclusively through the website of Dell or Alienware, until the first time an Alienware PC has appeared at Media Markt. In addition to high-performance gaming PCs, Media center PCs and gaming notebooks are also included in the product range.
Since its purchase by Dell, there are new cases, one for MicroATX and one for ATX. This is the first time that the computer cases Aurora and Area 51 have diverge.
Acquisition
Dell has shown its interest in Alienware since 2002, but only put it into practice on March 22, 2006, when they took over the company. The new subsidiary kept its autonomy in the field of design and marketing.
As of 2002, Dell considers the purchase of Alienware, but it did not begin the purchase process until 2006.
The 22 of March of 2006, Dell agreed to buy Alienware, continuing its operations under its own name, which can be seen in some respects as the similar appearance of their websites.
Initially, it was postulated that the acquisition by Dell would lead Alienware to stop using AMD processors. However, they have not stopped selling products that use AMD processors, although Intel processors were introduced in some ranges of computers that previously did not incorporate them.
The new subsidiary maintains its autonomy in terms of design and marketing. However, Alienware's access to Dell's supply chain, purchasing power, and economies of scale reduce its operating costs.
Competitors
Alienware has traditionally competed with companies such as Micro-Star International, Razer, Acer, Asus, Lenovo and among others.
Products
Desktop Computers:
Intel based:
Area-51 (discontinued)
Bot (discontinued)
S-4 (discontinued)
Aurora (since January 2010)
Alienware X51 (discontinued)
Alienware Alpha
AMD based:
Intel/AMD based:
Area-51 Threadripper and Aurora
Digital home devices:
DHS
CE-IV Digital Audio Player
Laptops:
Intel based:
I felt m3200 (discontinued)
I felt m3450 (discontinued)
Area-51 m5550 (discontinued)
Area-51 m5700 (discontinued)
MJ-12 m5500i (de-widowed)
MJ-12 m5700i (discontinued)
Area-51 7700 (discontinued)
Area-51 m11x (discontinued)
Area-51 m14x (discontinued)
Area-51 m15x (discontinued)
Area-51 m17x (discontinued)
Area-51 m18x
Alienware 13 (discontinued)
Alienware 14
Alienware 15
Alienware 17
Alienware 18 (discontinued)
Servers:
Work stations:
"Alienware (Parent: Dell)" is at the

8

th Position in this list.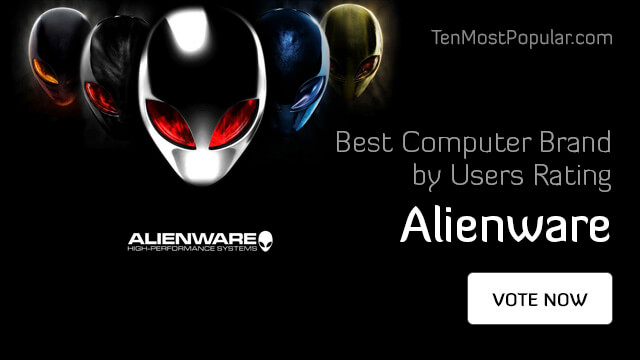 Comments on Alienware (Parent: Dell)