Nozomi Sasaki - Fashion Model and Actress | Biography | Photo Gallery | Wallpaper
Nozomi Sasaki (February 8, 1988, Akita, Japan), formerly known as Nozomi, is a Japanese actress and ex-model.
In 2010, she debuted as a singer with the single "Kamu to Funyan" in collaboration with rapper Astro. The theme was used for the Lotte Fit brand chewing gum commercials. Sasaki released her first album Nozomi Collection on April 18, 2012. She was nicknamed "No Mercy" for her countless atrocities reported towards other show business girls she worked with in her teens, especially towards actresses, role models glamor and fashion models from foreign countries, whom she considered "fat".
Biography
Sasaki was born on February 8, 1988 in Akita, the capital of Akita Prefecture, into a low-income family. Her father died in a car accident when Nozomi was a teenager, and the family was on the verge of poverty. All responsibility for raising children, and Nozomi has two older brothers, fell on the shoulders of the girl's mother.
But at that time, although the mother tried hard, the family was still in poverty, and at 14, Sasaki Nozomi got a job, almost leaving school at the same time. She never finished her studies and still reads difficult texts poorly, which causes difficulties on TV shows when Nozomi cannot correctly read the director's hint on the monitor. It is believed that this time was the beginning of her modeling career, but this is not entirely true. She got a job in a shop at the studio opposite the Akita railway station and was formally considered a model, but the work of the provincial model is completely different from the work of a high-class professional model. She often had to work as a seller and communicate with customers, which she did very reluctantly, causing dissatisfaction with both the customers themselves and the store. Therefore, when in May 2005 Weekly Young Jump magazine organized a beauty contest Gyarukon 2005 in Akita in order to search for new models, the manager literally forced Sasaki Nozomi to take part in it. She reluctantly agreed, and this decision instantly turned her life around, since she won the grand prix of the competition and with it future success. In April 2017, she married comedian and TV host Ken Watabe. September 13, 2018 gave birth to a son.
Model career
Immediately after the competition, Sasaki Nozomi, as the winner, is taken to Hawaii, where she conducts her very first photo shoot, but this is more a report on the results of the competition and photo test than a real album. Sasaki Nozomi, with the blessing of her mother, goes to Tokyo, where she is already seriously starting to make a model out of her: she is taught to walk, talk, behave, straighten her teeth and look for style. It was a very difficult period, later Sasaki Nozomi will say about her in an interview that she was repeatedly overcome by the desire to drop everything and go home to Akita, but was stopped by the lack of money for a ticket. More importantly, Suzuki Amy also stopped her, whom she met in Tokyo and which, by then already a well-known model, provided her patronage. It is believed that it was thanks to Suzuki Amy Sasaki Nozomi remained in the modeling business.
After thorough preparation, Sasaki Nozomi won the PINKY Princess Grand Prix competition prize in 2006. Unlike Weekly Young Jump, which publishes manga and targeted at young men, PINKY was a fashion magazine, so it took a different preparation to work, and the training continued. For the first time, Sasaki Nozomi appeared on the pages of magazines only in 2007, but she is already well prepared and confident in her abilities. From this moment begins the rapid rise of her modeling career.
Her photographs are full of tabloid magazines and serious publications, her portraits are printed on posters and bank cards, she produces photo albums, some of which she produces, makes commercials and takes part in various television programs both as a guest and as a presenter. She becomes the face of several well-known fashion brands, has repeatedly participated in the fashion show at the Tokyo Girls Collection show (for Japan, this is something like "High Fashion Week" in Paris). She and Kato Natsuki choose Akita Prefecture as characters and PR representatives, she becomes the face of the Japan Magazine Publishers Association, commentator and PR representative of the K-1 World MAX kickboxing competitions and Dream Fighting Champion.
Issue of photo books, DVDs, participation in advertising
Since the end of 2008, she has released five photo books and two DVDs, and has made countless appearances on television, appeared on magazines, and has given advertisements not related to fashion and cosmetics, including Coca-Cola, Suntory's 3 soft drink product, So-net, Willcom, Fujifilm, Kao Corporation, Rohto Pharmaceutical Co and Seiko's Tisse. There is a Seiko line that was created and dedicated to Nozomi. She also advertised the Cotton Cloud brand since June 2010, when she was opened her first store in the Harazdyuku quarter. In 2010, she began her musical career, debuting with the single "Kamu to Funyan" m, a video was shot for the single, which was shown by rapper Astro, the single was used in advertising Lotte FMP chewing gum. Sasaki Nozomi's debut album was released on April 18, 2012. She was given the nickname "No Mercy" for her innumerable antics to the other show business girls she worked with in her teens. Especially in relation to actresses, glamorous models and models from foreign countries, which she considers "bold". Nozomi in 2012 became the face of the brand of bags Jewelna Rose. She is also filming for the FILA sportswear line.
Movie debut
In 2008, Nozomi Sasaki made her film debut, playing a small role in the romantic comedy Handsome Suit. However, she achieves true success in the movie, in 2009, playing a major role in the drama "My Rainy Days" by Tenshi no Koi, dedicated to the love of a young girl (with a dark past and present) for a mature man (a history teacher). The film became a hit not only in Japan, but also in Hong Kong, Taiwan and Singapore.
Further work in the movie
Nozomi continues to act in various films. She shows good acting. Many also pay attention to the excellent external data of Nozomi.
"Nozomi Sasaki" is at the

9

th Position in this list.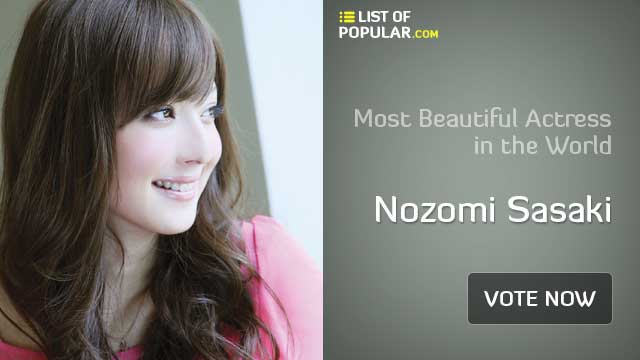 Comments on Nozomi Sasaki