Marilyn Monroe - Biography | Photo, Wallpaper, Life and Death
Marilyn Monroe, full name Norma Jeane Mortenson (Los Angeles, California, 1 June 1926 - 5 August 1962) was an American fashion model, actress and singer. As a sex symbol, she became an icon in the 1950s.
Early years
Marilyn Monroe had a difficult childhood. Her mother was Gladys Pearl Mortenson, born Monroe, and was previously married to John Baker. Norma Jeane's mother was named after her Gladys Sasha Baker, and she also baptized Norma Jeane with this surname. Gladys Baker was married to Martin E. Mortensen in 1924, but they lived separately before Gladys became pregnant. Norma Jeane's father may have been Charles Stanley Gifford. Gifford and Gladys Baker both worked in the cutting studio of RKO Pictures, where Baker Giffords was subordinate. Gladys Baker was a drug addict and left Marilyn's upbringing to her friends Albert and Ida Bolender. When Baker moved into an old hovel after a long time with her daughter, she had a nervous breakdown that made her go crazy (according to eyewitnesses, she would have climbed on the roof and screamed all over the place). Monroe was then placed in the family of Grace McKee (later Goddard). Monroe would never build a good relationship with her mother. In a later interview, she said of her mother, "To me, she was just that red-haired woman."
In 1942 McKee's husband had to go to the east coast of the United States for work. It was too expensive for the couple to maintain 16-year-old Monroe. Young Monroe had two choices: return to the orphanage or get married. She chose the latter and married her 21-year-old neighbor James Dougherty on June 19, 1942. While Dougherty served in the military, Monroe accepted a photographer's request to pose, including for nude photos. When Dougherty returned, he could no longer keep her and on September 13, 1946, the couple divorced. Dougherty then married twice more. He passed away in 2005.
In the years that followed, Monroe tried to work in Hollywood. She got a contract with a film company under the name Marilyn Monroe, but apart from one small supporting role, which also died in the editing room, this initially remained unsuccessful. At that time, a contract with a company was often an institutionalized form of prostitution: the 'actresses' were allowed to eat out with the relations of the film bosses.
In the meantime she was working on her posture, taking acting and singing lessons, blonding her hair and having her teeth overhauled. She gradually made a name for herself as a dumb blonde, an image she consciously cultivated. Her first major role was in How to Marry a Millionaire. She had great success with Gentlemen Prefer Blondes, alongside Jane Russell, and The Seven Year Itch, which features the famed shot of the billowing dress. Her last project was "Something's Got To Give", an unfinished film in which she played opposite Dean Martin.
Monroe's marriage to baseball player Joe DiMaggio, whom she married on January 14, 1954, lasted only 7 months (until October 27, 1954). However, they split up as good friends. After Monroe's death in 1962, DiMaggio brought fresh roses to her grave three times a week for 20 years.
Arthur Miller
In the late 1950s, Monroe founded her own production house and moved to New York. She took lessons at The Actors Studio with Lee Strasberg and had a relationship with playwright Arthur Miller, whom she married on June 29, 1956. She wanted to deepen and play more serious roles. In England she made The Prince and the Showgirl, with Laurence Olivier. The movie was a flop, but it wasn't bad at all afterwards. Many feel that her best film was "Some Like It Hot", opposite Jack Lemmon and Tony Curtis, although she also received good reviews for her performance at Bus Stop.
Arthur Miller wrote the script for The Misfits, in which she played opposite two Hollywood legends Clark Gable and Montgomery Clift. The recordings were hell, because they took place in the Nevada desert, far from civilization. Monroe rehearsed well into the night with her personal coach, Paula Strasberg, the lyrics for the next day. Due to fatigue, but also because of her alcohol and medication use, she often appeared late on set, or sometimes just not at all. Midway through the shoot, director John Huston sent, who also took a sip and sometimes fell asleep during the shooting, took her to a clinic to get rid of her addiction. The last shots of Monroe were filmed in soft focus to mask the traces of the addiction.
During the shootings, Miller met the photographer Inge Morath, with whom he started a relationship. This led to the divorce from Monroe on January 20, 1961.
Death
After The Misfits, Monroe worked on recordings for Something's Got to Give, a project that was shut down by the studio because she almost never got on set. Her psychological problems, partly inherited from her mother, were aggravated by her chronic drug use.
On August 5, 1962, she was found dead by housekeeper Eunice Murray at her home in Brentwood, California. At the autopsy on Marilyn Monroe's body, eight milligrams of the drug chloral hydrate and 4.5 milligrams of the drug Nembutal were found in her body, and Dr. Theodore J. Curphey of The Los Angeles County Coroner's Office said in a news conference that the cause of death was an acute "barbiturate poisoning", as a result of "probable suicide".
Monroe is interred at Westwood Village Memorial Park Cemetery in Los Angeles.
Speculations
There has been much speculation in the media about a possible relationship between Monroe and the Kennedys. She is rumored to have had an affair with United States President John F. Kennedy, but when he was tired of her he would have turned her over to his brother, Bobby Kennedy. When this one dropped her, Monroe would have gone off the bat and attempted blackmail. However, evidence for the relationship and a cause of death other than suicide has never been found.
There are reasons for these rumors to arise. The general public was ignorant of Monroe's drug use in the 1960s. Her death was unexpected for outsiders. That also fueled speculation about the cause of death. Monroe's performance on President Kennedy's birthday in May 1962, when she sang the President's remarkably sultry Happy Birthday, also fueled the aforementioned speculation afterwards. Finally, these were two icons from the early 1960s that both came to an end in an unexpected and puzzling way, good news for the popular press for many juicy stories.
Serious book publications about this connection have also been published. Three books by well-known investigative journalists on these matters are:
HERSH, Seymour H. (1997), The Dark Side of Camelot. Boston: Little, Brown and Company.
WOLFE, Donald H. (1998), The Assassination of Marilyn Monroe. London: Little, Brown and Company.
HEYMAN, David C. (1998), JFK. A Candid Biography. New York: EP Dutton.
The Autopsy Report provides an overview of theories surrounding Monroe's death.
"Marilyn Monroe" is at the

5

th Position in this list.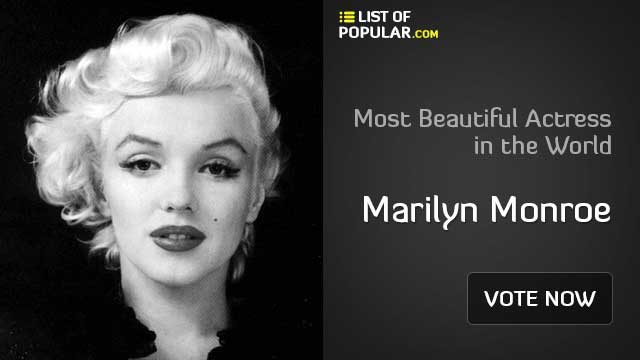 Comments on Marilyn Monroe