Kamal R Khan is an Indian actor and producer. Kamal R Khan was born on 1 January, 1975 in Deoband, Uttar Pradesh.
Career
Khan started his film career as actor-producer in film Deshdrohi. This film proved to be a big failure at the box office. After that he appeared in Mohit Suri's directed film Ek Villain. This movie has earned over 100 crores at the box office. It also included in the list of hits movies of the year. In the film, Siddharth Malhotra, Shraddha Kapoor and Riteish Deshmukh appeared in the main role.
TV career
Just as his film career failed, TV career as well. He started his TV career with Colors' well-known multi-venerated reality show Bigg Boss. In this show, he survived only for a few days due to his behavior. He used to tell himself wealthier than Amitabh-Shahrukh. Khan said that his house was built in 2100 square feet. He has milk from Holland at home, water from France and tea from London.
Interesting things about Kamal R Khan
Kamal R Khan's full name is Kamal Rashid Khan. Kamal Rashid Khan came to Mumbai to become actor. But he proved to be unsuccessful in Hindi cinema. After which, he turned his stance towards Bhajpuri films.
Kamal Rashid Khan often remains in the headlines of newspapers and TVs due to his rubbish tweets.
In Colors's well-publicized reality show Big Boss, he described himself as the richest person in the show, saying that he has milk from Holland, water from France and tea from London.
According to "Tele Chakkar", Kamal R Khan was bald during the Big Boss Show, and he was seen mostly in the hat during the show. One day, when the unit of the show hit his head, the whole confusion came in front of the people and during that time his picture was clicked. He warned the unit that this picture should not be approached by the media.
"Kamaal Rashid Khan" is at the

1

st Position in this list.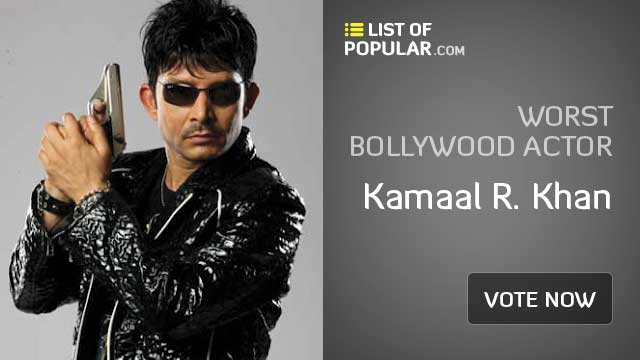 Comments on Kamaal Rashid Khan